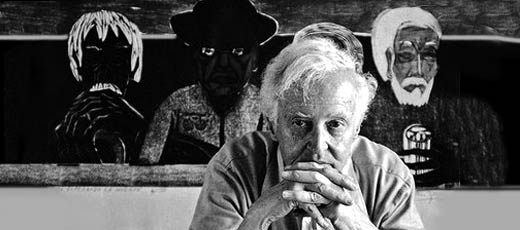 Francisco Amighetti is perhaps the most famous Costa Rican painters of all time. Find out about his art, styles and personal life.
Francisco Amighetti is perhaps the most famous Costa Rican painters of all time. Throughout the 20th century he was internationally revered for his surrealist art, which he produced in a variety of forms, from traditional watercolor paintings to wooden etchings.
Francisco Amighetti Ruiz was born in the Costa Rican capital city of San Jose in 1907 to parents of Italian origin. His artistic talents became apparent while attending the local boys' elementary school, where his teachers encouraged him to enroll at Costa Rica's Academia de las Bellas Artes, which he did in 1926. It was here that he learned traditional artistic techniques under the guidance Tomas Povedano, a famous Spanish painter.
1927 saw the first publication of Francisco Amighetti's artwork. Throughout his early development he had shown flair when it came to cartoon drawing. This was picked up on by el Repertorio Americano, an important cultural magazine published in San Jose Costa Rica and distributed across all of Latin America. From this point forward his reputation grew, not only in the Costa Rican arts but on an international level as well.
In the 1930s Francisco Amighetti's artistic style began to take shape. He, along with other contemporary Costa Rican painters, began to reject the old European school of artistic techniques in favor of surrealism. This movement originated after the First World War and was pioneered by the surrealist painters of the French capital, Paris. Surrealism gained in popularity in both art and literature throughout the 1920s and was considered a revolutionary movement with surrealist artists focusing on the element of surprise and providing unusual juxtapositions for the audience.
Amighetti was also inspired by alternative techniques to painting and drawing. He became particularly interested in xylography, which is a technique of printmaking achieved by carving an image onto a block of wood and then printing the image onto paper with ink. Amighetti applied his type of surreal art onto xylographs. These became some of his most internationally renowned pieces alongside his oil and watercolor paintings.
In 1934 Amighetti, along with six other Costa Rican artists who shared similar ideas, published an album of xylographs that would become one of the most influential and respected publications in Costa Rican art. Amighetti drew influence for his artwork from Costa Rica itself, depicting Costa Rican life through its varying landscapes and people with his own surrealist style.
In addition to being one of Costa Rica's most celebrated artists, Francisco Amighetti was also an accomplished poet. He published his first collection of poems in 1936 and from then on would often display his artwork and literature together alongside the publications of other renowned poets.
By the 1950s, Francisco Amighetti's international reputation had grown and his work was being exhibited across the main cities of America, Europe and Asia. In spite of this success, Amighetti stayed in his native Costa Rica throughout the majority of his career, unlike other artists at the time who sought greater success by moving abroad. He would only travel to other countries in order to exhibit his work.
Over the course of a long and distinguished career Francisco Amighetti produced over 500 pieces of art, which are believed to have a higher value than those produced by any other Costa Rican artist. He remained active with his art and kept on producing pieces right up until his death in 1998, at the age of 91 in San Jose. These days Francisco Amighetti's work is displayed in museums across the world.