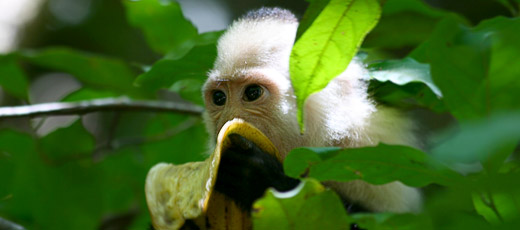 Ecotourism in Costa Rica. Costa Rica has revolutionized its attitude towards its landscapes. Half of the country is covered again in tropical forests.
Boasting 22 national parks, 10 wildlife reserves, 12 biological reserves and 8 forest reserves, Costa Rica has become the embodiment of successful ecotourism as it strives to flaunt its incredibly-rich biodiversity to its visitors while both conserving the natural beauty of these spectacular landscapes and improving the well-being of its native inhabitants. Dating back to 1963 with the establishment of the Cabo Blanco National Reserve, ecotourism in Costa Rica continues to go from strength to strength. Attracting over a million tourists annually and creating thousands of jobs, ecotourism is at the forefront of Costa Rica's economy and by devoting a staggering 25% of its national territory to protected areas, the increasingly popular Central American destination is sure to see this key sector flourish long into the future.
Despite covering just under 0.03% of the earth's total surface, Costa Rica is home to an incredible 5% of the world's plant and animal species making it one of the most biologically dense countries on the planet.
With only 21% of its jungles remaining in the early 1980s due to aggressive land clearing, Costa Rica has completely revolutionized its attitude towards its natural landscapes and, owing to the promotion of ecotourism, half of the country is now covered again in tropical forests.
From mangrove swamps to coral reefs to tropical rainforests, Costa Rica is home to a remarkable 12 different ecosystems which, thanks to ecotourism and the existence of hundreds of highly-knowledgeable local guides, can be carefully explored and appreciated by nature-loving visitors. Within these outstandingly-diverse habitats, tourists find themselves in absolute awe of not only the sheer number of plant species which surround them—the country has 13,000 plant species in total— but are equally mesmerized by the richness of Costa Rica'swildlife. Blessed with 237 mammal and 361 reptile and amphibian species, Costa Rica's main wildlife attraction has to be its flying creatures, however. Just 51.100 sq. km in size it may be, but Costa Rica has more bird species than the United States and a greater variety of butterflies than in all of Africa.
Although hiking along the numerous rainforest hiking trails in the company of a trained guide is the obvious, and definitely an essential, Costa Rican ecotourism activity, visitors to the country may be surprised upon arriving to find out just how extensive the range of activities on offer is. From coffee tours to horse riding to whale watching to whitewater rafting, Costa Rica's numerous ecotourism activities leaves its tourists spoilt for choice. Moreover, whether learning about the local produce, providing nearby villages with financial support or gaining knowledge concerning the importance of environmental conservation projects, visitors should be rest assured that each chosen activity will help contribute to the continued success of Costa Rica's ecotourism industry in the future.
Following an unforgettable day of wildlife observation, adrenaline-filled sporting activities and educational enrichment, the Costa Rican ecotourism experience does not end there. Found in the heart of the Osa Peninsula, along the shores of the Caribbean coast and around the base of the Tenorio Volcano are the sustainably-constructed eco lodges. Close to nature and intentionally isolated, Costa Rica's ecolodges depend on renewable energy sources, offer meals made from locally-sourced products and provide tourists with a truly unique accommodation experience in which they are constantly treated to the breathtaking sights of Costa Rica's outstanding landscapes by simply opening their blinds.