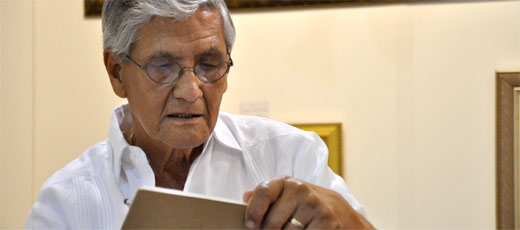 Armando Valladares is a Cuban writer who served 22 years in a Cuban prison. In 1975, Amnesty international recognized him as a prisoner of conscience.
Armando Valladares is a Cuban writer who served 22 years in a Cuban prison between 1960 and 1982. In 1975, Amnesty international recognized him as a prisoner of conscience.
In 1960, when he was 23, the Cuban government sentenced Armando Valladares to 30 years in prison after bomb workshops were uncovered in Havana. It does not seem that there was ever any evidence to support Valladares' connection to the workshops and many international human rights organizations including Amnesty International and the Oslo Freedom Forum have stated that he was imprisoned only for his open opposition to the communist government. During his imprisonment, the Inter-American Commission on Human Rights of the Organization of American States also stated that the Cuban government had violated a number of his rights including the right to a fair trial and the right to humane treatment during custody.
Valladares joined a group of inmates in 1974 who protested their imprisonment by refusing to wear the blue uniforms worn by common prisoners. Valladares was consequently denied food for 46 days. Vitamin deficiency and restrictions on access to medicine, extensive periods of solitary confinement, and torture for refusing to accept political rehabilitation left his legs paralyzed until 1979.
While in prison he wrote poems on cigarette papers and smuggled them out of prison. These poems were collected for his book entitled From My Wheelchair. The poems received international attention, inspiring people around the world to raise awareness for the political prisoner's cause and fight for his release.  Many of these poems appeal to our sense of sympathy and hope. His Wings Will One Day Grow reads:
Wings will grow some day
on my wheelchair
I will be able to fly over parks
carpeted with children and violets.
My chair will be a winged dream .
without the deranging obsession of bars
and I will be able to climb the rainbow
and alight on a quiet mountain
My chair will be a dream without eyes
a metal swallow above the earth.
The poems and the international attention seem to have kept him in jail longer, as all the Cuban prisoners arrested with Valladares were released earlier than him. The Cuban government finally decided to release him in 1982 after then French president Françoise Mitterrand personally requested Fidel Castro to free the prisoner of conscience.
After his release, Valladares wrote Against All Hope, a memoir of his prison experiences.
After the book came out, either moved by the book or making a clear political statement, the then U.S. president Ronald Reagan appointed him U.S. Ambassador to the UN Human Rights Commission. Reagan also awarded him with the Presidential Citizens Medal. The poet has also received a number of important awards from countries around the world including: France (PEN club's Freedom Prize), Italy (Prize for International Journalism, and Honduras (Order of José Cecilio del Valle).
Other famous political prisoners in Cuba include Orlando Zapata Tamayo, and Guillermo Farinas whose hunger strikes helped bring about the 2010 release of the 75 political prisoners arrested in the spring of 2003. Tamayo died while on hunger strike in February of the same year. Their constant resistance to compromise their political beliefs in the face of physical abuse has helped Valladares and other Cuban prisoners bring global awareness to their cause. They have served as an example for people everywhere fighting for justice.