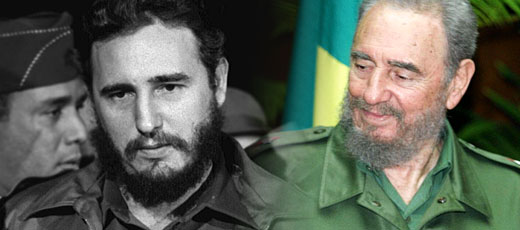 Fidel Castro. Despite the controversy surrounding his lengthy rule, Fidel Castro made a significant mark on the history of Cuba.
Fidel Castro was born on the 13th August 1926 in the east of Cuba and studied Law at Havana University, which is where he first became interested in the political world. After graduating in 1950, when Cuba was suffering from widespread poverty, Castro provided legal representation to poor Cuban citizens, as well as becoming involved in movements which opposed the rule of the dictator at the time, Fulgencio Batista.
As a firm opposer of the Fulgencio Batista regime, Castro developed into a key leader in the resistance movement and made numerous attempts to overthrow the Cuban government. One such attempt was carried out by Castro and his comrades, including Che Guevara, on the army barracks in Santiago de Cuba in July 1953; consequently, Castro and his supporters' revolutionary struggle came to be known as the '26th of July Movement'. Despite a long and painful fight with many losses to Castro's platoon, the revolutionaries used skillful guerrilla combat to finally earn victory over the Batista forces in January 1959. Castro marched his troops triumphantly into the capital city, Havana, and soon took over control of the country. Following his magnificent conquest, Castro began to build a communist state and, during the 1960s and 1970s, he gave support to left wing guerrilla movements in Latin America, hoping to spread communist ideas on a wider scale.
However, Castro soon suspended political liberties and imprisoned any critics of the new government, effectively becoming a national dictator. He also allied Cuba closely with the Soviet Union, subsequently worsening the country's relationship with the USA. Many of Castro's former supporters were disillusioned by the repressive nature of his state and fled the country, accusing Castro of breaking his promise to build a democratic state. After four long decades in power, suffering from ill health, Castro handed over presidential duties to his brother, Raúl Castro, in 2006; despite planning to only relinquish control temporarily, medical complications led to Castro finally announcing in 2008 that he would no longer be able to return to his position as President of Cuba.
Despite his withdrawal from the public eye, the presence of Fidel Castro is still very visible and powerful in Cuba. Opponents in exile in Miami have erected a monument in Miami Tamiami Park, USA, with over ten thousand white crosses in a striking quadrilateral formation representing the victims of the Castro regime. Known as "The Memorial of Cuba", this place has become symbolic and is well respected amongst Cuban exiles, offering an astonishing sight for visitors. Furthermore, the place where Fidel Castro was born and spent his early childhood, a property stretching over 32,000 acres situated in the province of eastern Holguin, has been officially declared a national monument. Castro's former home has been referred to as 'a symbolic site of our contemporary history' by the media and historical status was granted to the building during a ceremony in 2009.
Despite the controversy surrounding his lengthy rule, Fidel Castro made a significant mark on the history of Cuba and his legacy lives on in the nation. The conflict between Castro's communist ambitions and gallant defense of Cuba, and the authoritarian eventuality of his time in power, remain at the center of his polemic regime.