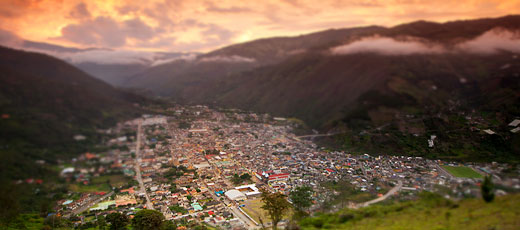 Cities in Ecuador. Ecuador, the country that is located on the Equator line is home to a number of beautiful, intriguing cities
Ecuador, a country that is located in the North-West of South America on the Equator line is home to a number of beautiful, intriguing cities. Quito, lying at the foot of the Pichincha Volcano, is the capital city and is surrounded by natural beauty. It is a UNESCO World Heritage Site because it is the best preserved historical center in Latin America and there are a multitude of interesting museums and buildings to explore.
Guayaquil is situated in the Costa Region and is the biggest of all the Ecuadorian cities. Along with being widely regarded as the economic center of the country, it has plenty to offer visitors, including, museums, historical attractions and archeological ruins. Also, there are a number of places outside of the city that offer ecotourism opportunities.
Machala is another important city in Ecuador and it is located in the South-West of the country. It plays a significant role in the Ecuadorian economy with a huge trade in coffee, cocoa and most importantly bananas. The banana industry is particularly focused on exportation and is vital for the city's economy, and the city is actually known as "The Banana Capital of the World."
These are just three cities that are located in this culturally rich and diverse country, but there are plenty of other Ecuadorian sites, towns and places that are also hugely important in this South American country.
Related articles