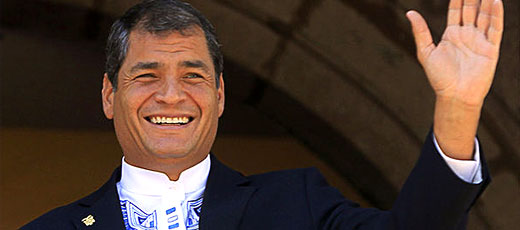 Rafael Correa has been the President of the Republic of Ecuador since 2006, and was reelected in the 2009 and 2013 elections.
Rafael Correa has been the President of the Republic of Ecuador since 2006, and was reelected in the 2009 and 2013 elections. He was first voted in based on his promise of reforms to benefit the poor. Before becoming president, he was Finance Minister for four months in 2005, and an academic before that.
Founded the current ruling party, Alianza PAIS
Has been elected president an unprecedented three times
One of the world's most popular heads of state
Correa was born to a lower-middle class family in Guayaquil, Ecuador's largest city, in April 1963. He had a difficult upbringing, and the family struggled financially. His father was sentenced to a five-and-a-half year prison sentence when he was caught smuggling cocaine into the United States. After school, Correa was awarded a scholarship to study at Guayaquil's university, where he graduated with a degree in economics in 1987. He spent some time teaching indigenous children, trying to improve literacy rates, and subsequently learnt the indigenous language, Quichua. He went on to obtain a masters at Belgium's Catholic University of Louvain, where he met his future wife. He returned to Ecuador in 1991 and became a director at the Ministry of Education and Culture. A decade later he completed his academic career at the University of Illinois where he received a doctorate in economics in 2001.
His economic background meant he was appointed Ecuador's Finance Minister in 2005 under then-President Palacio. Yet his tenure only lasted for four months, he resigned in August of that year due to what he cited as a lack of support from the president for his economic policies. Soon after his resignation, he established a new political party, Alianza PAIS, a socialist party aiming to enhance the rights of the working poor and increasing political sovereignty. He first ran for president in the elections of 2006, with one of his main election pledges being to compose a constituent assembly to rewrite the country's constitution. He won that election in the second run off with 56.67% of the vote.
During his first term he made a number of foreign policy changes, notably the expulsion of American troops from the Eloy Alfaro airbase. He also joined ALBA – the Bolivarian Alternative for the Americas – a left-leaning organization set up by Venezuela's Hugo Chavez. Correa also held a referendum to decide whether to set up a constituent assembly to examine areas of improvement for the country's constitution, which was eventually approved by the electorate in 2008. The president also addressed the political gender imbalance by ensuring that forty per cent of cabinet posts were occupied by women.
In April 2009 Correa was reelected, the first sitting president to have been reelected in thirty years. His second term was notable for the so-called 2010 Ecuador crisis, during which police officers rebelled in an attempted coup d'état after a proposal to end the practice of awarding medals and bonuses with each promotion within the police force. At one point he was taken hostage by the police in a hospital and had to be rescued by an elite army unit. Another hallmark of his second term was the decision to grant asylum to the Australian founder of whistleblowing website Wikileaks. Julian Assange had sought refuge in the Ecuadorian embassy in London in order to avoid extradition to Sweden, where he is wanted on charges of sexual assault. The granting of asylum by Correa has been a major cause of friction between Ecuadorian and British authorities, but has raised Correa's international standing.
In 2013 Correa was elected for a third term. His approval ratings continue to be very high, reaching 90% according to one poll carried out in April 2013. Throughout his presidency Correa has been highly critical of the media, an industry which he accuses of at best ridiculing his policies and at worst trying to overthrow the Ecuadorian government.
President Correa is married to Belgian Anne Malherbe Gosselin, whom he met when studying in that country. She moved to Ecuador upon their marriage, and together they have three children: daughters Sofia and Anne Dominique and son Rafael Miguel.