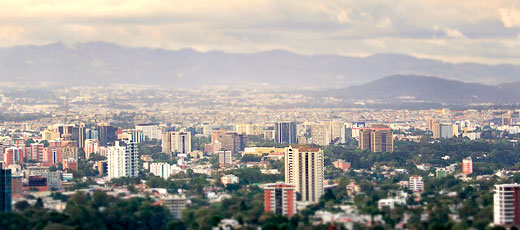 Guatemala City. Together with the historic center's regal architecture and the abundance of green spaces, the capital of Guatemala is a fascinating city.
The Capital of Guatemala
A sprawling, skyscraper-filled expanse surrounded by the rugged hills and striking volcanic cones of the Valle de la Ermita, Guatemala City is the epitome of contemporary urban agglomeration. Declared as Guatemala's capital city in the late 18th Century and continuing to hold the title of Central America's largest city, this lively metropolis is the country's political hub and entices urban landscape enthusiasts with its numerous high-rise buildings. However, although perhaps not obvious at first glance, Guatemala City is equally a historically-rich city proud to share its intriguing ancient Maya past through the careful preservation of its archeological and textile-centered museums. Together with the historic center's regal architecture and the abundance of green open spaces, Guatemala City is a city not to be overlooked by the avid traveler, therefore, despite its initial purely urban feel.
Guatemala City was named the capital of Guatemala following the catastrophic Santa María earthquake which completely devastated the previous capital, Antigua, in 1773.
As the chosen location for the signing of Central America's independence from Spain in 1821, Guatemala City justifiably comes alive with celebrations during the annual Independence Day festivities.
So rooted as Latin America is in its indigenous past, it comes as no surprise that Guatemala City is so keen to commemorate the unique customs of its ancient Maya ancestors and to promote the continued existence of age-old community traditions both located in the verdant Francisco Marroquín university campus, the Museo Ixchel Del Traje Indígena and the Museo Popol Vuh certainly bring such captivating cultural practices to life. Whereas the Ixchel Museum of Indigenous Dress celebrates the creative talents of Guatemala's highland village inhabitants who have produced centuries of carefully hand-woven textiles, the Popol Vuh Museum is esteemed for its profusion of pre-Colombian Maya art including its exquisitely-detailed funerary ceramics.
A little further along in history, Guatemala City's Plaza Mayor focuses most of its attention on the stately Palacio Nacional de la Cultura, a 320-room stone palace originally built for presidential purposes in 1943. Now open to the public, visitors are most dazzled by the Bohemian-crystal and 18-karat gold chandeliers which respectively hang in the reception and banqueting halls in addition to the brightly-colored stained-glass panels which line this latterly-mentioned luxurious dining suite. Just a few steps away and equally striking in appearance is the capital's twin-towed Metropolitan Cathedral, a neo-classical building primarily admired for its sheer size and structural strength.
Having toured the best of the capital's interiors and appreciated the immensity of its modern architecture, tourists are often delighted to then stumble across Guatemala City's botanical gardens. Overflowing with an impressive 1400 plant species, of which 80% are native to Guatemala, the lush gardens have been carefully designed to preserve the nation's endangered endemic plants and provide visitors with 18,000 sq m of natural beauty. If looking to travel beyond the city's confines to continue these outdoor explorations, a day trip to nearby Pacaya Volcano remains a firm favorite among nature-loving tourists. Still an active cone, Volcán de Pacayo can be enjoyed in all its high altitude glory in the company of an expert guide who takes hikers on a spectacular view-filled journey with particularly breathtaking sights of the volcano's red-hot crater.
A city often characterized by its architectural modernity, Guatemala City proves to the true, keen-to-explore tourist that it equally boasts hidden cultural gems, grandiose, historical buildings and a striking encircling landscape of volcanic silhouettes.