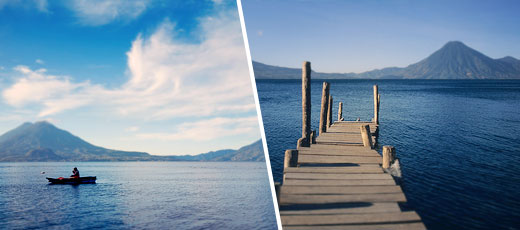 Lake Atitlan. Guatemala's Lake Atitlan is justifiably regarded as one of the most beautiful lakes in the world.
A seemingly endless, gently rippling, blue expanse surrounded by the majestic peaks of three 10,000-foot volcanoes, Guatemala's Lake Atitlan is justifiably regarded as one of the most beautiful lakes in the world. Stretching an impressive 12 miles in length and 6 miles in width, it is the sheer vastness of this highland lake which completely captivates visitors as they first catch a glimpse of its shimmering, azure surface. Not just spectacular in appearance, Atitlan's mighty, volcanic origins equally prompt us to admire the geographic wonders of the natural world. Formed 85,000 years ago by an immense, lava-spewing eruption, Atitlan, in all its modern-day, aquatic beauty, seems to have been the 'blessing in disguise' following an otherwise extremely destructive, natural phenomenon.
Most likely inspired by the ever-changing and almost magical-looking appearance of the lake, Atitlán is believed to derive from the Maya word meaning 'the place where the rainbow gets its colors'.
Primarily home to the Kaqchikel and Tz'utujil ethnic Mayan groups, Lake Atitlan is the centerpiece of an assortment of rural, indigenous communities still keen to preserve the unique traditions of their ancient ancestors.
Comparable to an empty canvas on which a passionate artist is eager to flaunt his creative flair, the colossal Lake Atitlan greets sporting enthusiasts with an equally unfilled, water-based playground on which they are also keen to prove their physical prowess. Certainly not limited in choice, Atitlan offers tourists an array of aquatic activities ranging from Hobie Cat sailing to water skiing to wake boarding to windsurfing to kayaking. However, for those looking to explore the tremendous depths of the voluminous lake— Atitlan is commonly recognized as the deepest lake in Central America— scuba diving is an absolute must. With the opportunity to swim among the rapidly-moving zebra cichlids, largemouth bass and bluegill sunfish, to observe rugged, volcanic rock formations and to feel the boiling hot temperatures released from the lake's underwater fault line, divers can appreciate the remarkable volcanic history of this incredibly-formed Guatemalan lake.
Panajachel
Dotting themselves along and above Atitlan's extensive shores, the lake's numerous, indigenous settlements exemplify the historical and cultural richness of the Guatemalan nation. From the beautifully-colored huipil prints worn by Tz'utujil women to the often elaborate headwear of Kaqchikel women, it is the traditional dress of the local inhabitants which visually captures the sense of pride of these close-knit villages as they seek to continue age-old customs. Hoping to witness such long-held community spirit, Atitlan visitors are particularly drawn to 800-year-old Panajachel. A small town of a little over 11,000 inhabitants, of which most are Kaqchikel Mayas, Panajachel is most renowned among tourists for its extensive Saturday artisan market. Selling everything from wide-brimmed sombreros to vibrantly-patterned hammocks to carefully-beaded jewelry, the market not only attracts visitors thanks to the multicolored designs of its products but also owing to their admiration of the talent needed to create such delicately-made crafts. If intrigued further by the ancient Maya culture present in this mountainous region, a journey to uphill La Cueva Maya (The Maya Cave) provides visitors with a small insight into religious Mayan customs as, even today, it is the chosen location for sacred ceremonies.
Giving just a taster of the natural beauty found throughout Guatemala, Lake Atitlan is much more than just a tourist hotspot, however; it is the centerpiece of a fascinating, ancient culture.