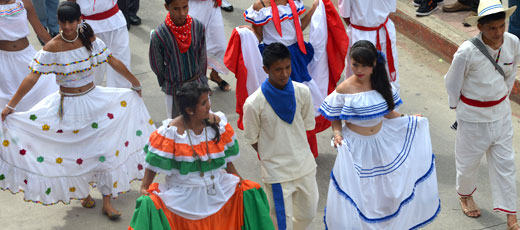 Guatemalan Independence Day. Following almost 300 years of Spanish colonial rule, Guatemala, celebrates its annual Independence Day with true Latin passion.
Following almost 300 years of Spanish colonial rule (1523-1821), Guatemala, unsurprisingly and justifiably, takes great delight in celebrating its annual Independence Day with true Latin American passion. Held on 15th September, the countrywide festivities reveal the undeniable patriotism of a nation proud to have overcome such a turbulent history. Small in size Guatemala may be compared to neighboring giant Mexico, but small or half-hearted when it comes to national celebrations, it certainly is not. Greeted with a sea of blue and white flags at every turn and the sounds of whistles, marching bands and the national anthem, visitors to Guatemala on Independence Day will find themselves absolutely captivated by the infectious party atmosphere.
Also commemorating their long-awaited liberation from powerful Spanish rulers on 15th September, the Central American countries of Costa Rica, El Salvador, Honduras, and Nicaragua join together with Guatemala on this day to revel in equally lively independence celebrations.
Beginning in Guatemala City and ending in Costa Rica's former colonial capital Cartago, the "running of the torch" relay remains a much-loved Independence Day tradition and attracts large, excitable crowds year in year out.
Although technically just a day-long, preparation for Guatemala's independence festivities begins well in advance of the fixed September date. Patriotic Guatemalans sporting the colors of their national flag, children rehearsing intently for the imminent drum processions and elaborate bunting hanging from schools are all typical sights and sounds in the weeks prior to the annual event and help to contribute to the ever-growing community excitement. When the much-anticipated day finally arrives, Guatemala's streets come alive with vibrant parades, melodious marimba music and spectacular visions of the regal uniforms of procession band players. However, while the entire community has a part to play in this unique day of celebrations, it is, arguably, Guatemala's children who take center stage and who, during the multiple school parades, not only become a source of pride for their onlooking parents but also successfully capture the hearts of admiring tourists.
Equally respected are the privileged torch bearers of the "Antorcha de la Independencia" relay. Preserving a tradition dating back to the night before the historic day itself (14th September 1821) in which independence hero, María Dolores Bedoya, ran through the streets of Guatemala carrying a lantern as a symbol of hope for the nation's liberated future, modern-day participants take equal pleasure in celebrating their continued independence. In a combined effort, the relay runners, generally of school or university age, cover a distance of approximately 350km across the five Central American countries. Naturally, the extensive relay creates great excitement amongst Guatemalan spectators who cheer loudly as they watch the torch pass through their beloved towns and villages.
To end the day's events, no festival would be the same without enthusiastic dancing, delicious food and mesmerizing fireworks and Guatemala's Independence Day certainly will not disappoint in these three areas. Dance with the locals in the numerous town halls, indulge on Guatemala's renowned dobladas, tamales or fried plantains and marvel at a sky illuminated by the colorful sparks of impressive firework displays. A Guatemalan you may not be but that is no reason why you cannot participate in the unique festivities of a nation honored to be celebrating almost 200 years of autonomy!
Photo by Amslerpix