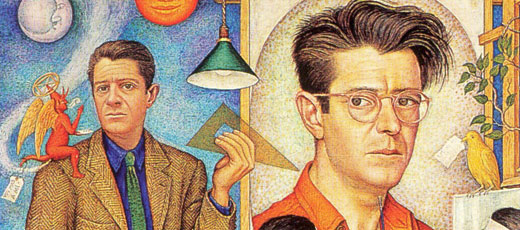 Juan O'Gorman. Information about the Mexican architect Juan O'Gorman, who produced some of the first examples of functionalist architecture in Mexico.
The first son of an Irish father and a Mexican mother, Juan O'Gorman was born in Mexico City in 1905. He learned to draw and paint from his father (Cecil Crawford O'Gorman) who was an engineer and painter. Juan began creating murals while studying architecture, first painting them in bars and hair salons, and later on public sites. After graduating from the National University of Mexico's School of Architecture, O'Gorman worked in various architectural offices.
O'Gorman supported a philosophy of progressive socialism that influenced his writing and his buildings. Inspired by Le Corbusier and other European modernists, O'Gorman created some of Mexico's first examples of functionalist architecture, such as the 30 schools built for the Department of Public Education between 1932 and 1934. He also designed a house for his friends Diego Rivera and Frida Kahlo.
After World War II, O'Gorman began moving away from his original architectural philosophy and started favoring a style with a more regional flavor. Disenchanted with functionalism, he temporarily discontinued his architectural work and dedicated himself full time to mural painting. The murals that tell the history of aviation, painted in the Mexico City airport between 1938-39, are notable examples of his mural work.
Between 1941-42, O'Gorman painted a fresco in the Biblioteca Gertrudis Bocanegra (located in the town of Patzcuaro) entitled Historia de Michoacán (History of Michoacan). He used painting techniques that he would later employ to create two more murals in Chapultepec Castle entitled Retablo de la Independencia and Retablo de la Revolución Mexicana.
In the early 1950s, O'Gorman returned to architecture. Inspired by the works of Frank Lloyd Wright and the Catalan architect Antoni Gaudí, he adopted an organic design style. An exceptional example of this style can be seen in the design work O'Gorman created for his own private home south of Mexico City, in which he integrated local forms and an attention to detail with structural arrangements and modern spaces to develop a significant approach to architecture that encompassed cultural, social and environmental elements.
O'Gorman paints with a careful focus on detail, a method characterized by precocity and perfectionism. At times his paintings extend beyond the limits of the canvas and spill onto the architectural landscape. His painting has been classified several ways, all of which group his work into three genres: landscape, portrait, and what O'Gorman himself called allegory. His most notable canvas work includes pieces such as Consumatum (1945), Ciudad de Mexico (Mexico City, 1947), the surprising Autorretrato múltiple (multiple self portrait, 1959), and Ruinas de la torre de Babel (ruins of the tower of Babel, 1981). This last piece was his final painting. He died in Mexico City on January 18, 1982.
O'Gorman continues to be an important figure in Mexico, as could be seen on the one hundred year anniversary of his birth in 2005, when the Palacio de Bellas Artes in Mexico City opened an exposition entitled Juan O'Gorman, architect, and a commemorative edition of El arte artistic y el arte útil (artistic art and useful art) about the painter-architect was published.