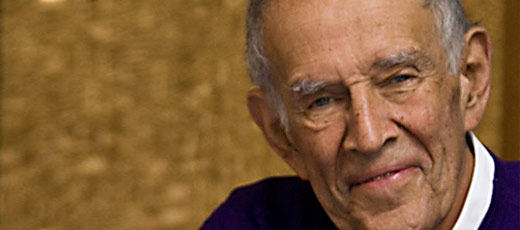 Ricardo Legorreta architecture & biography. Find out information about Legorreta, one of the most famous and influencial Mexican architects.
Ricardo Legorreta was born in Mexico City in 1931. In 1953, he graduated from the Universidad Autónoma de México (National Autonomous University of Mexico) with a degree in architecture. In college, Legorreta not only acquired architectural knowledge and academic skills, he also cultivated great interest in Mexican culture, music and heritage, which was his main source of inspiration. He also worked at the university as a draftsman. He has described these early days of his career with humor and modesty, saying "as an architect, I didn't get off to a good start, one of my first designs was of some bathrooms, in which I designed the urinals at a height that made them accessible only to giants or average sized people standing on top of a bench".
After graduating, Legorreta worked in Mexico City in the office of José Vllagrán, a prestigious Mexican architect and in 1955 he became a partner. In 1960, Legorreta established his own office and by 1964 he had become the manager of Legorreta Arquitecto in Mexico City. From 1977 until his death on December 30, 2011, he was the head of his own architecture office where he worked with his son who continues his father's legacy designing buildings, furniture and decorations.
Before the Second World War, architecture in Mexico adhered to an international style, a trend that completely ignored traditional forms of Mexican constructions characterized by thick walls that protect the privacy of residents, a style that stood in contrast to the column-plagued popular esthetic of the day.
Many accredit Legorreta with "rescuing" the Mexican architectural identity during this century, bringing back the "culture of the wall", favoring solid forms over empty spaces, the use of color to frame space, and the Latin American tendency to safeguard private space. Legorreta redefined local architecture, escaping from the architectural design that was fashionable at that time in much of Mexico and southern California.
Legorreta's work is distinguished by his use of proportions, creating simple spaces and intense colors that highlight the potency of the materials and the force of the architectural elements employed. Examples of his work include a series buildings designed for the chain of hotels Camino Real and numerous factories and offices throughout Mexico. He was also responsible for the restructuring of the Chapultepec Zoo in Mexico City. He became known abroad after designing a private home for the actor Ricardo Montalban in Los Angeles; the international fame lead him to design and raise the Cathedral of Managua in 1994 and the Mexico pavilion at Expo 2000 in Hannover.
During his productive life, Ricardo Legorreta received many awards and acknowledgements on a local and international level. He was a professor for many years at the Universidad Nacional Autónoma de México, the Universidad Iberoamericana (Ibero-American University), Harvard University and UCLA.
To use his own words in an attempt to define his architectural and esthetic "mexicanidad": "It's like those that put chilli in sushi, which is Japonese… This makes you wonder what defines Mexican style. Mexican style isn't about forms or colors, but how we use them".