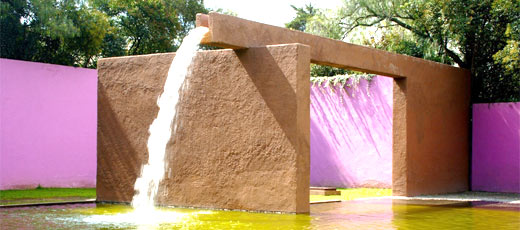 Learn more about one of the most famous Mexican architects - Luis Barragan. Find out about the Luis Barragan works and books.
Mexican architecture has a huge variety having been influenced by many different cultures and Mexican architects such as Luis Barragan.
In Mexico you can find wonderful examples of both ancient and modern Mexican architecture; from ancient temples constructed by the native Mayans thousands of years ago to impressive Spanish colonial buildings and some of the most cutting edge modern architecture of the past century.
Luis Barragan is perhaps the most famous of all Mexican architects. His original style has come to be recognized and revered all over the world and can be distinguished by his bold use of colors as well as the use of solely raw materials, such as stone and wood in his work.
Born in 1903, Luis Barragan is considered to be the pioneer of the modernist style in Mexican architecture. Having studied engineering at the Escuela Libre de Ingeniero in Guadalajara where he grew up, Luis Barragan went on to train himself as an architect which is one of the reasons he developed such a unique style.
Over the course of his development, Luis Barragan attended lectures in Europe for inspiration. Among them were lectures given by le Corbusier, a famous French architect who is considered to be the father of European modernism. Although Luis Barragan did not agree with all of le Corbusier's concepts, it was his work that had the most influence upon him.
Luis Barragan initially practiced and developed his style in his hometown of Guadalajara between the years of 1927 and 1936. After this, however, he decided to move to the capital, Mexico City, where his most recognizable works, such as the Convento de las Capuchinas Sacramentarias and the Torres de Satélite can be found.
Luis Barragan's architecture is characterized by the typical clean lines of the modernist movement and his particular use of light. The Mexican architect also liked to emphasize the importance of outside space. He designed many gardens over his career in which he included simple yet effective water features to create a relaxed ambience.
In 1980 Luis Barragan was given recognition for his life's work by being awarded the Pritzker Prize, the highest honor for architects whose work has produced consistent and significant contributions to humanity.
Luis Barragan died in 1988 at the age of 86 but his legacy lives on today. His work has had a profound influence on modern day Mexican architects such as Ricardo Legorretta.
In 2004, his house and studio, which he designed and built himself in 1948, was listed as a UNESCO World Heritage Site and today operates as a museum to celebrate his life's work. The Mexican Government is currently requesting that more of Luis Barragan's buildings be listed as World Heritage Sites, to honor his legacy and contributions to Mexican architecture.