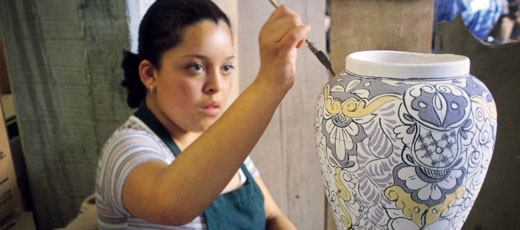 Traditional Mexican Art. Mexican Art is more than the famous paintings and murals. Mexico's arts and crafts are often based on indigenous traditions.
Mexican Art is more than just the famous paintings and murals from people like Kahlo, Rivera or O'Gorman.
Mexico has a long tradition of alternative arts and crafts, often based on indigenous, pre-Columbian traditions. In markets all over Mexico you will be able to find an excellent variety of ceramics with pieces representing styles particular to their region of origin. From the excellent Talavera pottery produced in Puebla (which takes its name and style from the Talavera pottery produced in the city of the same name in Spain) to the black pottery from Oaxaca, you will be amazed by the variety. But, keep in mind that Mexican art is much more diverse than that. Artists all over the country are producing an amazing variety of crafts and goods for the collector and non-collector alike. Explore the arts scene and you will find beaded masks and yarn paintings made by the Huichol natives, hammocks from the Yucatán or one of a kind silver jewelry from Taxco. Plus, don't forget about all the leather products, paper banners, ceremonial figurines, metalwork and multitude of traditional craft toys. Mexico never stops surprising and even more so when you take into account that Mexican Art is more than just a portrait or a mural.
Related articles