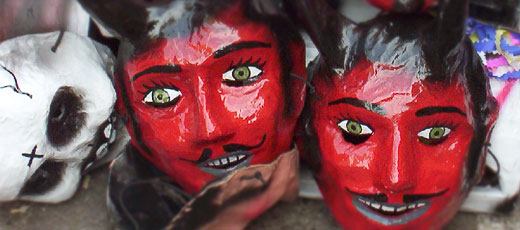 Mexican Folk Art. The wealth of folk art in Mexico is recognized the world over for its beauty, utility and craft skills.
Mexican art spans a wide range of genres with many famous personalities being recognized around the world for their skill and artistic ability. Also well known around the world is Mexico's rich folk art heritage. People come from all over the world to find unique, one-of-a-kind crafts and pieces made by skilled artisans many of whom are the latest in a long line of artist involved in trades that have been passed down from generation to generation. Some crafts have arisen as the result of Spanish colonization and other outside influences like the famous Talavera pottery from Puebla and leatherwork in the charro tradition (charro is a nickname for people from Salamanca). However, many crafts are of indigenous, pre-Columbian origin like basket weaving, beadwork, metalwork, pottery and woven textiles. The wealth of folk art in Mexico is recognized the world over for its beauty, utility and craft skills. Fortunately, demand for the finest crafts helps ensure that these skills will not be lost in the future.
Mexican pottery is recognized for its craftsmanship and utility. Talavera pottery is produced in around the city of Puebla and closely resembles the pottery from Talavera de la Reina in Spain where the artists that imported this style to Mexico came from. One of the trademarks of this pottery is the high quality of the clay used which can only be found around Puebla. With production dating back to the 16th century, this Talavera Poblana (used to distinguish it from the Talavera pottery of Spain) pottery must adhere to certain characteristics to be considered authentic. It must have a crackled or craze finish, be milky white and have one or more of the six accepted, naturally pigmented colors: blue, yellow, black, green, orange and mauve. Also, for a piece to be considered authentic it must bear the mark of the maker, initials of the artist and the location of the factory in Puebla.
Other noteworthy ceramics found in Mexico include barro negro which is pottery that is jet black in color, very sturdy and comes from Oaxaca. The origin of this style of pottery dates back to the Zapotecs and Mixtecs and was gray in color. The smooth black finish that we know today is a relatively new innovation created by Doña Rosa Real in the 1950's. Other popular regional styles are bruñido from Jalisco, mayolica from Guanajuato and the Trees of Life and other assorted creatures produced in the State of Mexico.
Leatherwork is also a famous and cherished art in Mexico thanks to its historical association with ranching and charro (cowboy) culture. Saddles, belts and footwear have historically been the most popular articles demanded from artists but there is also an important demand for bags, furniture and other leather crafts which are recognized for its elaborate stamp work and "Sheridan style" carving.
Another pre-Columbian art is paper craft since paper making has been an important part of Mexican society since the Maya around 300 CE but there is also anecdotal evidence that the Olmecs used paper going back to 500-1000 BCE. The earliest type of paper that was used is called amate and was made from the bark of the morus (mulberry) and also the ficus tree depending on the color of the paper desired. The Mayans used paper for clothing and documentation as well as decorations and this tradition would get passed on to the Aztecs. Today amate paper is still being produced by artisans in Puebla and Veracruz and artist from Guerrero use this paper for their traditional paintings. Today it is common to see paper banners, often with elaborate cut paper designs, of all different colors decorating houses and businesses throughout Mexico.
Of course, one folk art that cannot be overlooked is the production of handmade toys. Often made of wood, these toys are known for their ingenuity and entertainment value. Toys can vary from puppets to noisemakers and the ever popular piñata. With their roots from days long gone and used as a solution so underprivileged children could also learn to play and use their imagination, these toys prove that necessity is the mother of invention.
There many other forms of folk art that makes Mexico a destination for collectors and admirers alike. Metalwork, beadwork, wood carving and furniture are just a few more examples of wealth of popular art that demonstrates the resourcefulness, imagination and skill that has made Mexican crafts some of the most sought after around the world.