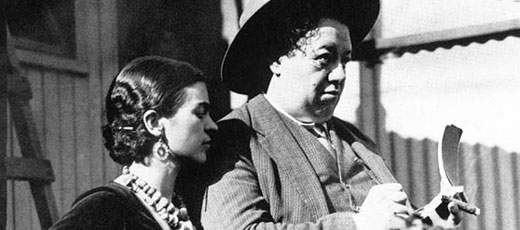 Frida Kahlo and Diego Rivera. Stark contrasts and great similarities defined the two Mexican artists and their chaotic marriage.
Stark contrasts and great similarities defined Frida Kahlo and Diego Rivera and their chaotic marriage. Both dedicated much of their lives to painting and they found international success as painters. Many still consider them to be two of the most important Mexican painters of our time. Each however had their own approach to painting and to finding success. Both painters also had strong political opinions and both loved and identified with their native Mexico. The couple's physical differences stood out immediately. Rivera was over 200 pounds heavier than Kahlo, almost a foot taller and more than 20 years older.
When they met each other in 1928 at a party, Frida Kahlo was a young, unknown artist, interested in and influenced by Diego Rivera, who had already become a well-known painter creating large scale murals as part of a government sponsored mural program. He joined the program in 1921, just after the Mexican Revolution (1919-1920) and after studying and painting for many years in Europe. Upon his return to Mexico, he identified even more with his country and its people, art, history and politics. The program sponsored other famous mural painters who were influenced by the art of the region's indigenous people. The program became a movement that celebrated pre-Columbian history, fostered a sense of local identity and promoted Communist and Socialist political views.
Kahlo and Rivera married in 1929, the year after they first met. During the wedding reception, a drunken Rivera broke a man's finger and wielded a pistol. An enraged Kahlo left crying. The wedding reception drama foreshadowed a lifetime of matrimonial difficulties, including a brief divorce in 1939.
Shortly after marrying, the pair spent three years in the United States, since Americans had taken a new interest in the Mexican mural movement. Rivera worked on commissioned murals in San Francisco, Detroit and New York. While he worked on these pieces (enormous paintings charged with social meaning and praised by critics and the American elite), Kahlo busied herself in the shadows of the limelight creating much smaller paintings charged with a much more intimate expression; self portraits that draw the viewer into a world of physical and emotional pain and struggle. These themes would dominate her entire body of work. Frida Kahlo spent most of her life suffering from health problems. She had polio as a child, was in a near fatal bus accident as a young woman, underwent over thirty operations over her life for spinal problems and other ailments. Later in life, she had a kidney infection due to alcoholism, had one of her legs amputated below the knee and was confined to her bed for extended periods.
After three years in the U.S., the couple moved back to Mexico in 1933, because their success suffered when Diego Rivera refused to remove a portrait of communist leader Vladimir Lenin from a mural commissioned by none other than oil giant John D. Rockefeller (1839-1937). In Mexico, Rivera and Kahlo's marriage began to suffer when each had numerous affairs. Kahlo's most notable affairs were with Japanese-American sculptor Isamu Noguchi and Russian Marxist revolutionary and theorist Leon Trotsky. She also had affairs with other women. Rivera had affairs with many women including Frida's sister.
By 1937 Frida Kahlo was determined to make a name for herself as a painter and achieve economic independence from her husband. That same year, a New York gallery owner noticed her work at a show in Mexico and offered her the opportunity to exhibit her paintings there. An exhibit in Paris followed where the Louvre purchased one of her pieces. Her work continued to find success and today it is still highly valued.
The turmoil of Diego Rivera and Frida Kahlo's relationship provides a tragic and fascinating backdrop to the incredible artistic legacy they left the world with. In 1954, after an uncommon life together moving in exclusive circles from the American elite to Mexican revolutionaries, influencing each other and people around the world with the art that expressed their bold characters and uncompromising passion, Diego sat at his wife's bedside as she lying dying. In a touching moment that casted aside years of cheating, misunderstanding and emotional suffering, she offered him a 25th anniversary ring. She died the next day, ending the marriage we will remember for its similarities, its differences and the bold voice it gave to pain, suffering and cultural and social identity.