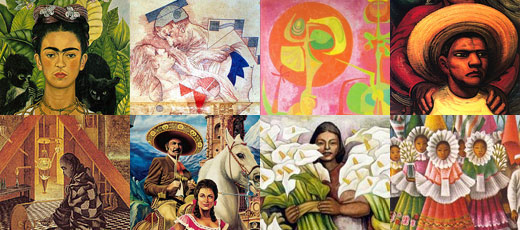 Mexican painters. The range of Mexican painters belongs to one of the most varied and celebrated art cultures in the whole of Latin America.
The range of Mexican painters is one of the most varied and celebrated art cultures in the whole of Latin America, if not worldwide. The breadth of style, form and expression of the paintings in Mexico is truly fascinating.
Mexico has always been a country where art has played an important part of its culture. Even among the first civilizations in Mexico, many indigenous Mexican paintings have been well preserved; although who these artists were is not known for certain to experts. Entire civilizations were wiped out by European colonization and some of the creators of the some of the finest examples of indigenous art remain anonymous.
With colonialism, came a new wave of influence. The church controlled the art of Mexican painters and so much of the subject matter was based on religious themes and imitated in large part the Spanish Baroque style. Mexican painters such as Miguel Cabrera, José de Ibarra, Juan Correa, Cristobál de Villalpando, were all well-known for their religious art, and their prolific output.
However, through time, painters in Mexico developed their own unique styles, and began to highlight social injustices. Jose Guadalupe Posada and Gerardo Murillo Cornado, better known as "Dr. Atl", are two examples of iconic artists who displayed a social consciousness.
After the revolution, the government wanted to promote art and educate the public. Muralism was seen as the perfect tool to do so, and some of the most celebrated of Mexico's paintings have come from this period. Diego Rivera, José Orozco and David Siqueiros are a few examples of those who are well known for their vast paintings and murals.
Alongside the muralists was a group of Mexican painters who wanted to remove themselves s from politics and follow their own path- 'La Generación de la Ruptura' which included Rufino Tamayo,  Vladímir Víktorovich Kibálchich Rusakov or "Vlady" and Pedro Coronel.
Other famous painters in Mexico's modern history include Frida Kahlo, Juan Soriano and María Izquierdo. In the 21st century Mexican painting continues to flourish with artists covering all styles: from the indigenous figurativism to hyperrealism or abstraction, with names like Eliseo Garza, Enrique Pacheco, Maragita Orozco and Vicente Rojo. Heirs of a rich history, Mexican painters continue to flourish and innovate.
Related articles