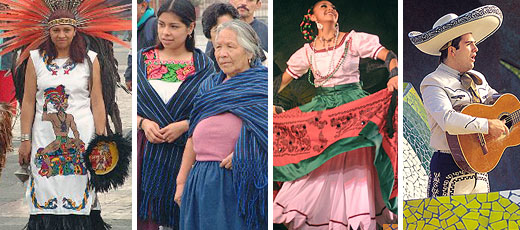 Fashion in Mexico. This section is dedicated to Mexican fashion, Mexican models, designs and of course Mexican designers who make Mexican fashion industry.
Fashion in Mexico nowadays differs very little from what is worn in America or Europe due to rapid globalization. However, there are certain emblematic clothing items associated with Mexico, especially traditional Mexican dress.
Traditional Mexican fashion combines both native and European styles; it varies from vivid and bold designs as well as beautiful and delicate fabrics with intricate engravings. Some of the most widely worn traditional female Mexican clothes include the huipil, quechquemitl, rebozo and Puebla dress. And as traditional male clothing these include items such as the charro suit and the mariachi suit and, of course, the famous sombrero. Whilst these garments are very much a part of Mexican culture, they are rarely worn on a daily basis, and reserved mainly for special celebrations and festivals.
The modern Mexican fashion industry is evolving steadily, with some very well-known and respected names associated with it. Manuel Cuevas, for example, has dressed a vast range of celebrities from Marlon Brando and Madonna to the Beatles and Johnny Cash. Other prominent Mexican designers include José Maria Torre, Eduardo Lucero and Rogelio Velasco.
While there are a growing number of designers in Mexico, there is also an extensive amount of Mexican models, from soap stars, beauty pageant queens or high fashion models. This section will give you more insight into the fascinating world of Mexican fashion from traditional dress and the symbols linked to them or the array of fashion models in Mexico.
Related articles