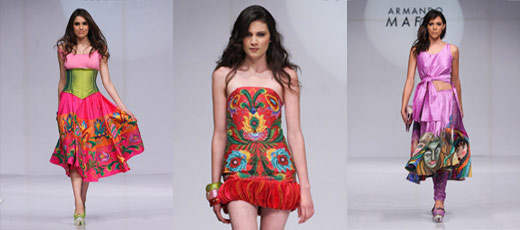 Armando Mafud is a Mexican fashion designer. The fashion of Mafud needs no explanation: a deep connection to popular tradition and cultural identity.
World famous fashion designer Armando Mafud creates striking clothes inspired by the vibrant color and character of traditional Mexican handicrafts, contemporary painting and any other source of Mexican pride imaginable. Mafud is from Oaxaca, a southern region of Mexico famous for its high percentage of indigenous people, and rich artistic tradition including handcrafted pottery and textiles.
Armando Mafud's fashion career spans three decades. Curiously, the bold and creative designer originally studied to be a dentist. He started making women's accessories to pay for his dentistry studies, but continued in the business for most of the 1980s. Mafud found his calling as a clothing designer when he created some garments just to match his accessory designs to be featured in a show. Positive critical reception encouraged the dentist-turned-designer to continue to create clothes and today his works have graced runways in Paris and around the world.
While some critics find his designs a little over the top, others have fallen in love with his colorful palette and celebration of traditional Mexican imagery which attempts to capture the spirit of Mexican art and Mexico itself. Mafud takes all that is identifiable with Mexico, from Diego Rivera paintings to pottery patterns, and splashes it on his collections of evening gowns in an unlikely but harmonious blend of popular culture and high fashion. Mafud's Mexican passion and pride shine in each of his pieces, and these invite observers to also admire the country and its history and cultural beauty. Notable dresses include one featuring an image of the Mexican shield (seen on the nation's flag and which shows an eagle perched on a cactus wrangling a snake with its beak), another with a portrait of painter Frida Kahlo, and one with images of iguanas. In the 2009 edition of Mexico Fashion Week, he accessorized a stunning metallic black dress, inspired by the mariachi suit, with a mariachi style sombrero.
Although Armando Mafud prefers using silk for his designs, he also employs a wide variety of materials including cotton, velvet and he is not above even using polyester. He is most famous for his dresses, but he has also designed jeans and bathing suits. He also prefers creating women's designs, where he has much more room to let his imagination run wild and be more fantastic. Indeed, the silky graceful forms and bright floral prints so characteristic of Malud's original creations are difficult to imagine being pulled off in style by a man.
Mafud has always stayed true to his roots, however the Mexican designer feels that great designers must explore and expand on their styles. As he travels the world and develops his oeuvre, he has started incorporating European elements into his pieces. But his love of Mexico will always find its way into his innovative creations, as will his love and dedication to original fashion. He often hires specialized artists to hand paint silk dresses, hand embroider designs and even to handcraft original metalwork. A hand embroidered dress can take up to 8 months to complete. Armando Mafud is one of the most well known Mexican fashion designers in the world, and he is determined to create beautiful clothing for women who are proud to be who they are. The fashion statement Mafud makes needs no explanation: a deep connection to popular tradition and a strong sense of cultural identity looks great in fashion, and that has caught the attention of the international fashion world.