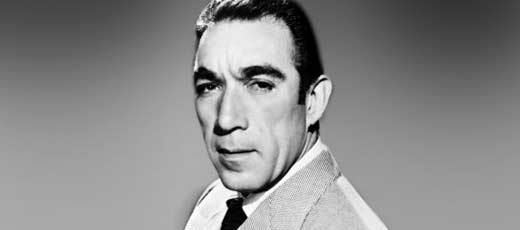 Anthony Quinn was one of the most revered film stars of the 20th century and is arguably the greatest Mexican actor of all time. Learn more about him.
Anthony Quinn was one of the most revered film stars of the 20th century and is arguably the greatest Mexican actor of all time. Twice winner of an Academy Award, his name is up there with other giants of the silver screen such as Marlon Brando. Anthony Quinn was prolific during the golden age of Hollywood cinema and starred in a number of the epics produced at the time. Many of Anthony Quinn's movies saw him playing exotic foreign roles due to his Mexican heritage. Aside from acting, Quinn was an accomplished artist and writer. He was also famed for his turbulent and volatile personal life; an Anthony Quinn biography seems like an epic soap opera having been married four times and fathering 13 children, both in and out of wedlock.
Antonio Rudolfo Oaxaca Quinn was born in 1915 in Chihuahua to a Mexican mother and a Mexican-Irish father. However, Anthony Quinn only lived in Mexico for a matter of months as his family fled across the border to the USA when he was still an infant to seek refuge from the Mexican Revolution. The family eventually settled in the eastern suburbs of Los Angeles where Quinn's father found work as an assistant cameraman in a Hollywood studio. While growing up, Anthony Quinn did not show much interest in school and dropped out at the age of eleven, following the untimely death of his father. Instead, he had many other talents such as boxing and would often use his artistic skills to make money while growing up. Quinn's talent for art and design was recognized when he received a scholarship to study under the guidance of the famous American architect Frank Lloyd Wright.
After dabbling in theatre throughout his teens, Anthony Quinn made his cinematic debut in 1936 at the age of 21. He was introduced to films by Mae West, a famous Hollywood actress at the time, and was encouraged to pursue a career in acting by his friend Frank Lloyd Wright, who told him he would earn more money than in architecture. In his first year he starred as an extra in The Milky Way before getting his first proper role in the film Parole.
Throughout his early career, Anthony Quinn was often typecast into roles playing foreign villains due to his large boxer's physique and dark Mexican appearance. As a result, he felt discriminated against by Hollywood's elite. However, things began to turn around in 1947 when he attained US citizenship and won widespread critical acclaim for his role as Stanley Kowalski in Tennessee Williams' play, A Streetcar Named Desire. His performance on stage would later land him the supporting role alongside Marlon Brando in ¡Viva Zapata! about the Mexican revolutionary Emiliano Zapata. Quinn won an Oscar for Best Supporting Actor for his representation of Emiliano's brother, Eufemio; stealing the limelight from Brando who left the awards empty-handed despite being Hollywood's brightest star at the time. Quinn became the first ever Mexican actor to receive an Academy Award and, as a result, is permanently regarded as one of the most famous Mexican actors ever.
Anthony Quinn's career took off after winning the award and a number of his best performances soon followed. In 1956, he won a second Oscar for Best Supporting Actor for his role as the painter Paul Gauguin in Lust for Life, a biopic about Van Gogh. This was a remarkable achievement considering he was only on screen for a total of eight minutes.
Quinn is perhaps most renowned for his role in Lawrence of Arabia, one of the most influential films in the history of cinema, and for playing the lead part in the light-hearted Zorba the Greek which earned him his fourth and final Oscar nomination. In 1972, he wrote and published his first autobiography, The Original Sin, providing details of his life as well as his problems accepting love; when he was already in his third marriage.
Despite his Mexican heritage, Quinn never actually starred in any Mexican films since he lived in America for all but the first few months of his life. However, his impact upon Mexican movies should not go unnoticed as his career inspired a whole new generation of actors and directors from his homeland. He continued performing in films right up until his death from pneumonia in 2002 when, at the age of 86, his illustrious career finally came to an end.