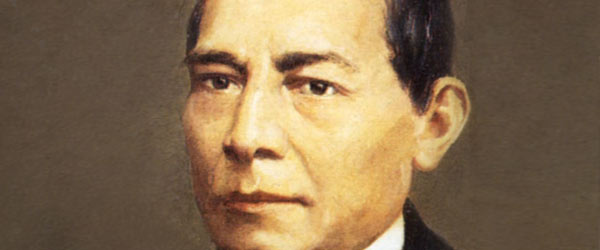 Benito Juarez. Benito Juarez was a President of Mexico and National hero of Mexico, who fought against foreign occupation under the emperor Maximilian.
The First Indigenous President of Mexico
Benito Juarez was a Mexican lawyer and politician, most famous for being the first indigenous Mexican president. In total he served five terms, somewhat sporadically, from 1858-1872.
Juarez was born in 1806 in the village of San Pablo Guelatao, a small community of 20 Zapotec families in the mountains of Oaxaca. His parents, who were both peasants, tragically died by the time Juarez was three. Shortly after, his grandparents died too, and so the future president of Mexico was brought up by his uncle. He began to work as a shepherd and also in cornfields. However, at the age of 12, illiterate and unable to speak Spanish, he decided to walk to the city of Oaxaca de Juarez to obtain an education. It was there that Benito Juarez began to work as a servant for a wholesaler called Antonio Maza. Maza was so impressed by Juarez's thirst for knowledge and intelligence, that he arranged for him to have a place in the city's seminary.
Young Juarez's education provided a fundamental foundation in his personal development. He obtained a degree in law and soon became well-respected within Oaxaca, becoming a judge in 1841, and then governor of the state from 1847 to 1852.
Oaxaca was a stronghold for Mexico's indigenous population, removed from the European influence of Mexico City, and notions of independence were particularly widespread in the city. Juarez's influence continued to grow and in 1855, when the liberal government came into power, he began to play a more prominent role in national politics: devising reforms, abolishing religion and declaring equality amongst citizens.
In 1858, Benito Juarez led the liberal side in the Reform War, during which he took the radical step of severely reducing the church's influence and power. He served as interim president until Mexico's presidential elections in 1861. During his time as Mexican president, Juarez faced a great struggle against the imperial powers, such as the French Intervention in 1861, and opposition to his presidency from both Spain and Britain.
Juarez made great achievements as the president of Mexico. Not only did he resist French occupation and overthrow the Empire to restore the Republic, but he also used his progressive and liberal reforms to develop and modernize the country. Juarez was the first Mexican leader with a non-military background and was incredibly proud of his heritage, referring to his parents as indios de la raza primitiva del país, meaning "indigenous natives of the country", Juarez was a Mexico National Hero.
Among the long list of Mexican presidents, Benito Juarez stands out for his progressivism. The time during which he was in power, which is known as 'La Reforma del Norte' (the northern reform) was characterized by liberal politics and social reform. This Mexican president's dedication to democracy, separation of church and state in public affairs and fight for indigenous people's rights have led Juarez to be celebrated for his achievements. Juarez's time in power is to this day seen as a triumph for the development of Mexico, a fact that is commemorated on his birthdate, March 21st, a national Mexican holiday.