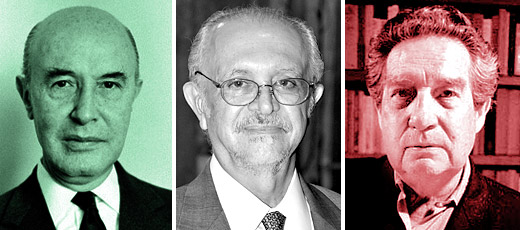 Mexico's Nobel Prize Winners. Octavio Paz is perhaps the most famous the three Nobel laureates coming from Mexico.
Three people from Mexico have been awarded the coveted Nobel Prize in three different categories:
Alfonso Garcia Robles – Nobel Peace Prize (1982)
Mario José Molina Pasquel Henriquez – Nobel Prize in Chemistry (1982)
Octavio Paz Lozano – Nobel Prize in Literature (1990)
The stories of these three Nobel laureates are inspiring, which include tales of tireless efforts to denuclearize Latin America and to identify environmental issues. Octavio Paz is perhaps the most famous the three, whose powerful literature explores identity in Mexico. The following is a quick look at the lives and outstanding works of these fascinating people.
Alonso Garcia Robles
Alfonso Garcia Robles, born in Zamora in 1911, was a Mexican diplomat who graduated with a Law Degree from the Universidad Autónoma de México before joining Mexico's Foreign Service in 1939. Over the next forty years, Robles fulfilled a number of important diplomatic roles: he served as Ambassador to Brazil for two years, was the State Secretary in the Ministry of Foreign Affairs for six years, acted as Mexico's United Nations representative for a further four years and served as the Foreign Minister for one year before becoming the Permanent Representative of Mexico to the Committee on Disarmament in 1977. As well as being the author of distinguished writings like 'The Denuclearization of Latin America' and 'Treaty for the Prohibition of Nuclear Weapons in Latin America', he also played a key role in the forming of the Treaty of Tlatelolco which made Latin America a denuclearized zone. For his contribution to this major political advancement, Robles was awarded the 1982 Nobel Peace Prize alongside the Swedish writer, Alva Myrdal.
Octavio Paz
The second Mexican Nobel Laureate, Octavio Paz Lozano, was born in Mexico City in 1914 and worked as a poet, diplomat and writer, as well as being a co-founder of the prominent Mexican journal Taller. Paz was an employee of the Mexican diplomatic service in France following the Second World War and, during his time abroad, he wrote his commended book on Mexican identity 'Labyrinth of Solitude'. In 1962, Paz was made the Mexican Ambassador to India but resigned six years later following the government massacre of Mexican students who were protesting in Tlatelolco during the Olympic Games. Well-known for his poems and author of works such as 'Collected Poems: 1957-87', Paz says poetry 'is the secret religion of the modern age'. As well as winning the most high-status accolade in the Spanish-speaking world, the Cervantes Award, Paz was also presented with the Nobel Prize in Literature less than a decade later in 1990. 
Mario Molina
The final Mexican Nobel Prize winner to date is Mario José Molina Pasquel Henriquez, born in Mexico City in 1943 and educated in Chemistry in both Europe and the US. He played a leading role in identifying the detrimental effects of chlorofluorocarbons on the ozone layer and their contribution to climate change, as well as being chosen by President Clinton to be an elite member of his Committee on Science and Technology in 1994. Due to his invaluable role in bringing core environmental issues to the public's attention, Henriquez was awarded the 1995 Nobel Prize in Chemistry and has been known to have worked on Barack Obama's Advisory Team for Environmental Issues.
Three worthy winners of the Nobel Prize in three different fields, they have certainly represented Mexico well with their impressive and passionate contributions to peace, literature and science.