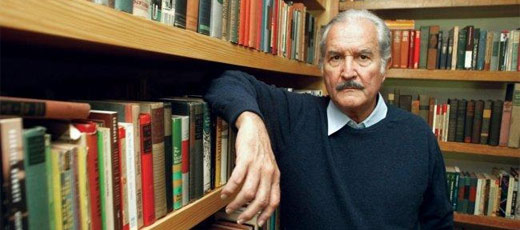 Carlos Fuentes, biography and works, was one of Latin America's most respected and influential writers. He passed away in 2012 at 83 years of age.
Carlos Fuentes was one of Latin America's most respected and influential writers. He passed away in 2012 at 83 years of age. Through novels, short stories, essays and plays, Fuentes' uncompromising and tireless voice promoted human rights over a brilliant writing career that spanned more than 5 decades.
Carlos Fuentes was Mexican, but he did not live in the country of his nationality until the age of 16. His father's position as a Mexican diplomat allowed the family to live in many South American countries and The United States, where he learned to speak English. Fuentes' early exposure to a rich variety of cultures and political climates helped to mold his strong political opinions and form an objectionable view of Mexico.
In 1962, Fuentes wrote his most well known novel entitled The Death of Artemio Cruz and which recounts the life and death of a Mexican revolutionary soldier who, after ruthless and bloody fighting for the lofty ideals of freedom and equality during the war, quickly becomes a corrupt landowner after the war. The character's story seems to define the history of Mexico itself, and possibly Cuba. The revolutionary war in Mexico started as a grass-roots effort to fight the Spanish government that oppressed and exploited all but the elite Spanish and Mexican born Spaniards. The war ended 12 years later with a compromised independence that only benefited Spanish Mexicans. Fuentes moved to Cuba in 1959 in the midst of Fidel Castro's communist revolution to write essays promoting that cause. In 1962, the same year The Death of Artemio Cruz was published, Fuentes left the Communist party. He had become increasingly disenchanted by Castro's growing dictatorial control.
Other notable works include his massive 1975 Terra Nostra, a weighty book that attempts nothing less than to offer an overview of the history of the western world in personal detail and mythical symbolism. In 1985, the Mexican writer continued with themes of corrupted revolutionary causes with his 1985 American bestseller The Old Gringo. The novel established a named for Fuentes in the U.S. and helped generate American interest in the history and politics of their southern neighbors. His works earned him many awards throughout his career including The Cervantes Prize in 1987. He seemed poised to win the Nobel Prize for literature but he never did. He also taught at many American Ivy League universities including Brown and Harvard.
Carlos Fuentes continued to write and have outspoken political views until the time of his death. He was most critical of U.S. and Mexican government policies, often expressing his disapproval of the Bush administration's war on terrorism and its handling of immigration issues. Always known for his experimental writing tendencies, he never stopped exploring and developing fresh and imaginative writing ideas. In 2008 he wrote an opera. Three years later, an 82 year-old Fuentes completed Destiny and Desire, a novel narrated by a severed head who reminds us of the horrors of the Mexican drug war. He was still working on a new novel when he died. We will miss the voice of this influential intellectual who passionately defended human rights directly through lectures, essays, and articles, and indirectly through his innovative fictional literature.