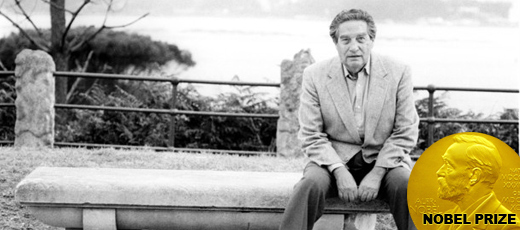 Octavio Paz biography & poems. Find out information about the famous Latin American writer Octavio Paz, winner of the Nobel Prize in Literature in 1990.
"I should briefly mention what distinguishes Spain from other European countries, giving it a particularly original historical identity -" Mr. Paz reflected on Latin American identity during his Nobel acceptance speech for Literature in 1990. He would go on to describe the Spanish as having a peninsular eccentricity that embodies the centuries of influence from Romans, Arabs, Jewish thought, and the Reconquest. Paz´s topics frequently commented on his native Mexican identity as well as much of the Latin world. Paz´s most critically acclaimed and best piece was The Labyrinth of Solitude (1950), a fundamental study of Mexican identity.
Octavio Paz was born in 1914 Mexico City to a political journalist, Paz´s grandfather was also an intellectual, young Octavio benefitted from exposure to literary works in the extensive library his father and grandfather had collected over the years. Paz´s mother´s family was from Andalusia in southern Spain. At university, Paz studied law but ultimately refused his degree as his passions lead him towards a career in journalism and creative writing. Paz was encouraged to follow his dreams by Pablo Neruda, Chilean poet and diplomat. He published over 40 books during his career with the first one in 1933.
On assignment in Spain in 1937, Octavio Paz visited the Iberian Peninsula to cover the Spanish Civil War. He joined the Second International Congress of Anti-Fascist Writers, a republican based group that believed in democratic ideals without the rights of a king. While in Valencia, where Paz spent most of his time while in Spain, he gathered the inspiration for Bajo Tu Clara Sombra y Otros Poemas (1937), works that supported freedom of expression and democracy.
In 1941, after the outbreak of WWII, Paz returned to Mexico and founded several literacy magazines, Taller y El Hijo Prodigo, he also was an editor to both outfits. As the war subsided, Paz joined the Mexican Diplomatic Corps and returned to Spain, also travelling to France, Japan, U.S., and India. During his time abroad, in which he never truly resettled in Mexico, Paz was also a UNESCO representative (United Nations Educational, Scientific and Cultural Organization). Paz gathered the inspiration for The Labyrinth of Solitude during his time visiting and teaching over seas.
During the 1970s and 1980s Paz was a visiting professor of Spanish American Literature at the Universities of Texas, Austin, Pittsburgh and Pennsylvania. He was also made an honorary doctor at Harvard University in 1980. In 1981 Mr. Paz was awarded the Cervantes award - the most prestigious award in the Spanish-speaking world. In 1982 Paz was awarded the American Neustadt Prize; a biennial award sponsored by the University of Oklahoma and World Literature Today, the Neustadt award is unique as it compiles international applicants although rooted in America. Finally, in 1990, at 76 years old Paz was awarded with the Nobel Prize in Literature for his "wide international perspective."
Octavio Paz has experimented with prose structure, written critically acclaimed essays, studies on poetics, literary and art criticism, as well as on Mexican history, politics and culture. He has been described as a literary citizen of the world. Paz lost his battle to cancer at 84 on April 19th, 1998.