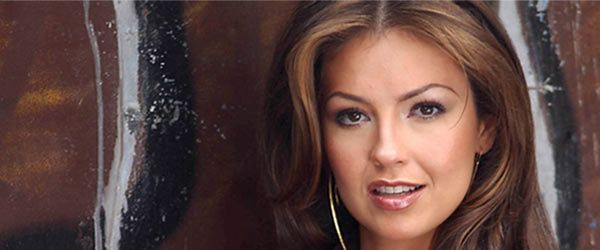 Thalia. Throughout her long career, the Mexican singer Ariadna Thalía has sold more than 40 million albums.
Mexican singer and actress Ariadna Thalía Sodi Miranda was born in August 1971. Throughout her long career, she has sold more than 40 million albums.
It may seem like this Mexican female singer has a wonderful life, but she has experienced several personal tragedies including the death of both her parents. Her newest album, Habítame Siempre, is dedicated to her late mother.
She had a successful career as an actress, starring in various Telenovelas. Despite coming from a highly privileged background, she is renowned for portraying poor, underprivileged children.
Thalía was born to Mexican parents in 1971. Her mother, who was also her manager recently died, of a heart attack. The untimely death occurred a fortnight before the birth of her second grandchild. Her father, who worked as a pathologist died of diabetes when Thalía was just six years old. Thalía is world famous singer and actress. She has also written and published several books including Growing Stronger, a book about the joy that came with the birth of her baby son combined with the total devastation and the sudden loss of her mother. As well as an author, singer and actress, Thalía is also a successful businesswoman with her own line of fragrances. Thalía learnt to speak fluent French when she was very young and has sung in a variety of foreign languages throughout her career in music including Tagalog, one of the languages spoken in the Philippines.
Thalía first became famous because of her Telenovelas (like short soap operas starring a Latin American cast). In the 80's, she starred in two telenovelas called Pobre señorita Limantour (Poor Miss Limantour) and Luz Y Sombra (Light & Shade). She took a break from TV for a while to concentrate on her musical career and returned a decade later as the main character in Rosalinda, a Telenovela about a young girl working on her grandfathers flower stall. She once said in an interview that she preferred telenovelas to films because the audience is so much more passionate. Plus she said she likes the fact that people can watch telenovelas for free. Ariadna Thalía had her own radio show for a while entitled The Conexión Thalía Radio Show. She spoke about music and fashion principally but also politics and current affairs.
At the beginning of her musical career, Mexican Artist Thalía produced a new album every year. In 1990, she released the self-titled album Thalía, in 1991, she released Mundo de Cristal, and in 1992, she released Love, an album that was praised by the critics for including a variety of musical genres including some electronic sounds. Thalía's fourth, fifth and sixth albums were produced with the help of Gloria Estefan's husband, Emilio. The first single from the fifth album, Amor a la Mexicana became a #1 hit in fourteen different countries! After the release of her sixth album, Thalía recorded the soundtrack for Disney movie, Anastasia (a story about a Russian princess in search of her biological family).
In May 2001, George Bush invited Thalía to a party at the White House. She performed a medley of popular Mexican songs accompanied by a mariachi orchestra. The very next year, she released her seventh album, once again self-titled Thalía. This album was a huge success, spending more than 6 weeks at #1 and selling over 800,000 copies. In February 2003, Thalía released Thalía's Hits Remixed. The album included a song that she originally intended to perform at the Latin Grammy Awards Ceremony but never did due to the September 11th catastrophe. In July 2003, Thalía collaborated with rapper Fat Joe on her eighth studio album. This was the first time in her musical career that Thalía had released an English album. Her ninth album, El Sexto Sentido, was released in July 2005, this time she went back to singing in her native Spanish.
Thalía officially became an American citizen in 2006 so that she could reside permanently with her husband, Tommy Mattola and her two children, Matthew and Sabrina at the family home in the United States. Thalía has been voted as one of "The Most Beautiful Women in the World" in People en Espanol magazine a record-breaking eight times. In the 2007 issue, they referred to the pop icon as their "Queen". In October 2008, Thalía and her mother fell seriously ill simultaneously. They were suffering from Lyme disease, a condition transmitted by ticks. Fortunately, the singer and her mother received their diagnoses early and received the treatment that saved their lives. In October, the year after her health scare, Thalía asked President Obama to dance during an organized event at the White House. After dancing with the pop princess for less than thirty seconds, he sat back down next to his wife Michelle, who, according to speculation, was unimpressed with her husband's outburst and gave him the cold shoulder for the rest of the night!