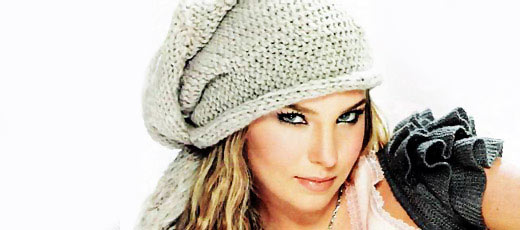 Find out more about Belinda Peregrín Schüll one of the most famous mexican singers and learn more about her album Utopia
Belinda Peregrín Schüll, known simply as "Belinda", is a famous Mexican entertainer born in Madrid, Spain on August 15th, 1989. Belinda is a famous Mexican singer, songwriter and actress.
Belinda's two last names come from her Spanish father (Ignacio Peregrín) and French mother (Belinda Schüll). The family moved to Mexico City from Madrid when the singer was only four years old. There, at a very early age, Belinda Peregrin would display a strong affiliation towards singing and acting; directing and starring in her own home movies.
By the age of 10, young Belinda landed her first leading role in a Mexican television series called ¡Amigos X Siempre! (2000), for which she also contributed music to the soundtrack. The budding actress Belinda Peregrin was on track to fame when accepted a role in the soap opera Aventuras en el Tiempo (2001),costarring Christopher Uckermann. InBelinda's next project she played the roles of identical twins in Cómplices al Rescate (2002). These roles would become her best known work. Belinda, who also recorded music for the show, was nominated for a Latin Grammy Award. The singer/actress dropped out of the show after the first season to pursue opportunities in her music career.
The singer went on to release her first self titled album Belindain 2003 which achieved great success in various countries and was released in four different versions. In 2005 Belinda Peregrin also collaborated with the Mexican rock band Moderatto on their single "Muriendo Lento.
By 2006, Belinda returned to the acting scene as Marisol in Disney's The Cheetah Girls 2. As a singer, Belinda contributed four songs to the Cheetah Girls soundtrack which debuted #5 on the Music Billboard in August, 2006. The same year her second album, Utopia, was released and reached #3 on Mexican music charts. During a television program the singer announced that she would record the album in English and release it as Utopia 2. The second Utopia album dropped in Europe and Latin America in 2007 and earned Belinda Peregrin various awards including Video of the Year for "Bella Traición" and Best Solo Artist at the Latin MTV Music Video Awards. The famous Mexican singer was also nominated for Song of the Year and Best Female Pop Album at the Latin Grammy Awards.
In 2008 Belinda Peregrin lent her voice to Princess Pea in the Latin version of the animated film The Tale of Despereaux. By 2009, after a long absence from the acting scene, Belinda returned to acting as Valentina in the Mexican soap opera Chameleons. Belinda continues to thrive as both an actress and singer. In March of 2010 she released her third album Carpe Diem and also accepted a leading acting role in Mujeres Asesinas 3.
We surely have not seen the last of Belinda Peregrin; Mexican actress and singer, Latin American sensation.