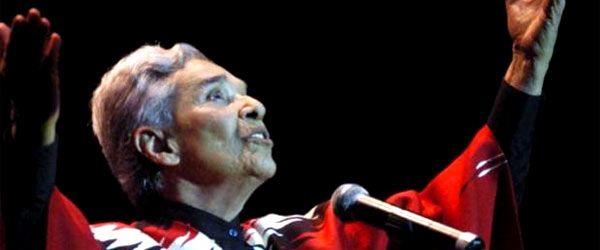 Chavela Vargas. Her singing is characterized by her rough but tender voice, qualities that perhaps best describe the personality of the Mexican Musician.
Chavela Vargas (1919-2012), also known as La Chamana and La dama del poncho (she often performed wearing a red poncho), was a famous singer of ranchera music and corridos, genres emblematic of her adoptive homeland of Mexico. Despite years of alcohol abuse and other high risk behavior, she lived to the age of 93.
Vargas was born in Costa Rica, but moved to Mexico as a teenager in the hopes of pursuing a singing career. She did not seem to cherish her childhood, flatly stating in her autobiography that she never knew her grandparents and that her parents did not love her. The young singer got her start as a street performer in Mexico, where she did not record her first album until 1961, when Vargas was in her 40s. She would go on to sing on over 80 recordings.
Vargas' singing is characterized by her rough but tender voice, qualities that perhaps best describe her dynamic personality. The lyrics of the corridos she sang, tales of defiance, struggle and triumph, told the story of her own life. Few women in the 1940s and 50s in Mexico wore poncho and pants outfits. Vargas did. She also carried a gun, smoked cigars, drank heavily and reportedly trotted around town on horseback brandishing her pistol. Most contemporary observers considered the behavior not only rebellious, but characteristic of a rebellious man. Her choice of musical genres to express her bold voice also challenged gender roles, as ranchera music in Mexico was sung primarily by men, who often crooned declarations of love and desire for women. Intriguing rumors surrounding her life abound. Supposedly as a young woman she had an affair with the painter Frida Kahlo during Kahlo's long and rocky marriage with Diego Rivera, while some also say that she once killed a man. Another popular legend has the pistol packing artist riding a white horse and kidnapping young women amidst a shower of gunfire. "Don't believe that story" she once stated, "I love horses, but the truth behind the legend is that I was driving a white Alfa Romeo, and I never kidnapped anyone".
La Chamana found great singing success throughout the 50s and 60s, performing in Acapulco at a time when Hollywood's jet-set made that popular beach resort their upscale vacation playground. She got to know some of the era's most celebrated stars including Grace Kelly and Ava Gardner, even performing at Liz Taylor's wedding. During this time she recorded some of her most recognizable songs including La Llorona and Luz de Luna. Vargas' successful career took a dramatic turn in the 1970s when the singer plunged into a long unproductive period during which she remained lost in a hazy abyss of alcoholism, a time she later described as "my 15 years in hell".
By the early 1990s, the ranchera music legend, her rough voice and bold attitude, had all nearly faded into a long lost past. In 1992, she stopped drinking and got a regular gig singing in a Mexico City restaurant, where Spanish editor Manual Arroyo caught one of her shows. Surprised that the small, mostly drunken audience according to Arroyo, did not appreciate the inspired performance of the once famous singer, he encouraged her to take her act to Spain, insisting that there she would relive the glory of her earlier success. With little to lose, Vargas agreed to cross the Atlantic.
At 70 years old, Chavela Vargas became an instant sensation in Europe, selling out prestigious, large scale venues around the continent. The Spanish filmmaker and long-time Chavela Vargas fan Pedro Almodovar, delighted over the singer's return to music and arrival in Spain, helped propel her career to greater success by featuring her in some of his productions, most notably in La flor de mi secreto (The Flower of my Secret).
At 80 years of age, Chavela Vargas tried parachuting. The following year she publicly announced that she was a lesbian, later explaining that people noticed she was homosexual from the time she was a very young girl. The next year, at Almodovar's encouragement, she sang at Carnegie Hall for the first time. In 2012, just months before her death, a 93 year old Vargas gave her final performance at the Palacio de Bellas Artes in Mexico City, promoting her book-album Luna Grande, which paid tribute to the Spanish poet Federico García Lorca. Just before her death, Vargas posted on twitter from her hospital in Mexico that she would not die, that she was a chaman, and chamans don't die, they transcend.
One of her final lines spoken was "Me voy con Mexico en el Corazon" (I leave with Mexico in my heart).