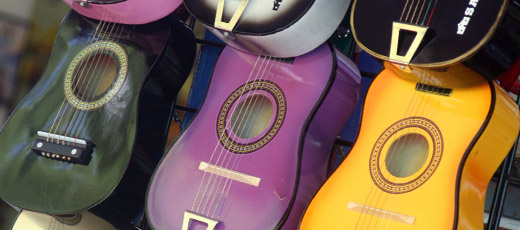 Mexican Music. This section will provide you with more insight into the fascinating array of the top Mexican songs and typical Mexican dances.
Music in Mexico is a fundamental part of the country's culture, from modern rock, mariachi or indigenous songs there is a vast range of musical styles throughout Mexico.
Due to its proximity to the United States, much of modern Mexican music has been greatly affected by Western trends. As such one of the most famous Mexican artists is the rock band Maná. Indeed, there is also a large pop following with some of the most popular Mexican songs by pop singers such as Paulina Rubio, Luis Miguel and Juan Gabriel.
Traditional Mexican songs, however, are far removed from the Western styles. The foundations of Mexico's music come from its indigenous sounds and instrumentation. Still played to this day, but confined to certain parts of Mexico, this music is played using drums, maracas, sea shells and flutes. Mariachi, the most emblematic Mexican music originated in the 18th century and still played widely throughout the country.
A traditional element of indigenous songs is the 'son' a type of rural music that is based on a fusion of indigenous and Spanish techniques. There are several types of son all varying slightly, these include Son Jaliscenses, Son Huasteco, Son Jarocho. La Bamba, one of the most famous Mexican songs is an example of a Son Jarocho.
Where there is music it is almost certainly accompanied by dance, Mexico has a huge range of dances from dances to accompany Norteño ballads to the lively Zapateado. Perhaps the most famous dance in Mexico is the folk dance, Jarabe Tapatío which is seen as a source of national pride and honor.
If you want to know more about the top Mexican songs or typical Mexican dances, then this section will provide you with more insight into the fascinating array.