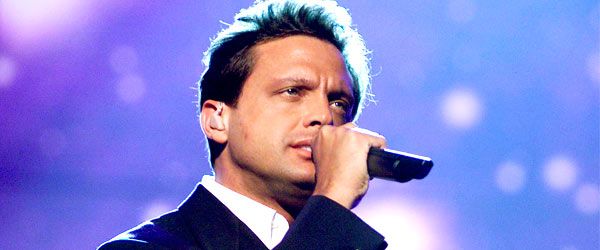 Luis Miguel. Luis Miguel is known by his fans as the sun of Mexico. He sold a million copies of his 2010 album - Luis Miguel - in three days.
Five times Grammy award winning Luis Miguel is considered to be one of the best male vocalists in the pop music industry. Miguel, born in Puerto-Rico, raised in Mexico is renowned for his romantic ballads. He first sung professionally when he was eleven years old and won his first Grammy award at fifteen. Miguel is known by his fans as "the sun of Mexico". Luis Miguel sold a million copies of his 2010 album, Luis Miguel in three days. He is famous for his prolific music career, live concerts, dapper clothing and very private personal life.
Luis Miguel was born in Puerto Rico April 19, 1970 to a Spanish father and Italian Mother. His family was there for work reasons but would move on to Mexico where Luis Miguel would spend his first years of childhood. Miguel's father, Luisito Rey, was also a Spanish singer and introduced his son to music at a young age. He encouraged Miguel to watch and analyze televised Elvis Presley concerts in his free time. Miguel's father, who would also be his manager, was known to be very demanding and despotic.
The Sun of Mexico
Under the direction of his father, Luis Miguel made his first album Un Sol in 1981—he was only 11 years old. A year later he was already traveling around Latin America making a name for himself as a child singer. In 1985 he would travel to Italy and participate in the famous San Remo Music Festival as well as the Viña del Mar Festival in Chile. This same year he would also win his first Grammy for the song Me Gustas Tal Como Eres, a duo with Scottish singer, Sheena Easton.
In 1988, Miguel released a music video La Incondicional featuring a seemingly transformed self. Miguel's signature long hair was gone and he seemed to have grown from a boy into a man overnight. The video caused quite a stir amongst his fans and his 10th album Busca una Mujer would go on to sell 8.5 million copies. This change from child star to full blown mega-star was completed with the presentation of his next album 20 Años. This groundbreaking record would go on to sell the first 600,000 copies in the first week only and a total of 5 million copies.
Prior to the release of his album La Incondicional, father and son decided to part ways both professionally and personally after differences arose between them and allegations of mismanagement and poor financial decisions began to circulate. They would not return to see each other until shortly before his father's death in 1992.
Luis Miguel's rise to superstardom would not go unheeded. In 1991 his album Romance would sell 15 million copies and would go on to produce and album each year except for 1998. His albums in the 1990's would average in sales around 6 million copies each and topping the album charts all over the world. 
In the years following his success of the 1990's, Luis Miguel has continued to his successful career, albeit with shrinking sales figures, but his concerts continue to demonstrate his ability to attract fans and present a show that many consider to be one of the best staged in the business. Over a 1.5 million fans went to see his 2000 "A Pleasure to Love You" tour which ran through 12 countries and three continents. In 2012, he received one million dollars to perform a concert in Chile.
Luis Miguel is an artist that has been able to make the transition from child star to international superstar with a career that spans almost 30 years and counting. Winner of 5 Grammy Awards, 4 Latin Grammy Awards, 7 Diamond Discs, 327 Platinum Discs, 40 Gold Discs, 107 million albums sold, a star on the Walk of Fame and many other prizes and honors attest to the talent of Luis Miguel. Luis Miguel has demonstrated that music knows no borders and his being a Spanish-speaking artist has not limited his ability to capture fans the world over.