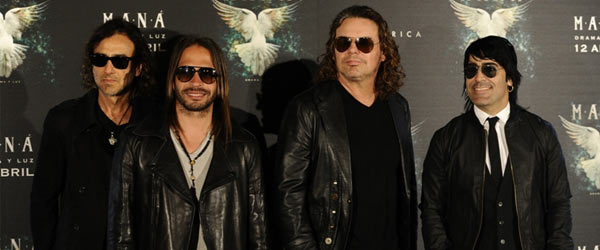 Maná. Mana is one of Mexico's best known rock bands with an extensive catalogue of hit songs and albums that spans over three decades.
Maná is one of Mexico's best known rock bands in and outside of that country, with an extensive catalogue of hit songs and albums that spans over three solid decades. Their awards showcase continues amassing prestigious honors including Grammies and Latin Grammies. The group has used the influence of their musical success to promote important causes such as environmental protection with their foundation Selva Negra. In 2003, Maná was named ambassador of The Food and Agricultural Organization of the United Nations, an organization created in the hopes of reducing hunger in the world.
 The Guadalajara based Maná, originally called Green Hat Spies, got its start performing covers of members' favorite American and British rock bands' songs. The band quickly rethought the direction of their own identity and that of Mexican rock music as an emerging genre, renaming themselves Sombrero Verde (Green Hat), showing an early preference for using their native language. In 1987, after changes in the band's lineup and a new band name, Maná (meaning "positive energy" in Polynesian) signed with Polygram records and began producing rock music in Spanish, with a decidedly Latin influence that celebrated the band's roots. While altogether common today, at that time Rock en español was something of a revolutionary concept, as rock in Mexico was mostly limited to bands covering popular English language songs of a musical style still largely considered an English speaking phenomenon. Following on the heels of successful groups from Spain such as Mecano, and Argentine groups such as Stereo Soda, Maná was one of the first Mexican bands to attract a large following with the growing rock in Spanish genre. It would take at least two more years however for Maná to achieve much success of their own. Their Falta Amor (1989) became a hit album in Mexico with notable singles that include Rayando el Sol and Perdido en un barco. Soon after, another change in the group's lineup took place with the addition of a new keyboardist (Ivan Gonzalez) and a new guitarist (Cesar "the Vampire Lopez). Band member Ulises Calleros quit playing with Maná, but stayed with the group as its professional manager.
This new arrangement then recorded the band's international breakout ¿Donde jugarán los niños? (1992, Where Will the Children Play?), which became an instant sensation, remaining as Latin American Billboard's number one album for an unprecedented 97 weeks. This album marked a new era for the band and for rock music in Mexico, indeed for all of Latin America. Mana's successful sound was not without its critics however, as some rock enthusiasts felt that the band was watering down the image of Mexico's rock scene with their pop-oriented melodies and relatively catchy hooks.
Despite the new lineup's enormous global success, its two recent additions Gonzalez and Lopez, decided to leave the group. Maná launched an international campaign in search of a new guitarist, a highly coveted post finally secured by Sergio Vallin, who brought a notable change in style to Mana's music introducing a refreshing lyrical sound to its instrumental voicing. The new definitive foursome promptly went about recording Cuando los ángeles lloran (When Angels Cry), their best selling album which would be nominated for a Grammy and open the doors to perform in venues of great prestige such as Radio City Music Hall in New York.
The group later produced Sueños Líquidos (1997, Liquid Dreams), another monumental effort that provided legions of anxious fans with more smooth textured Latin based fusion that encompassed influences as wide ranging as rock and bossanova. The album features memorable singles such as the bitter sweet En el muelle de San Blas (on the wharf of San Blas). The following year the band launched an extensive tour promoting Sueños. After the tour, singer Fher Olvera joined musical forces with guitar legend Carlos Santana to create Corazón Espinado (Thorned Heart) which won a Latin Grammy for Record of the Year. Santana would later tour extensively with Maná. Around the same time, Maná MTV Unplugged (1999) became one of the MTV unplugged series biggest selling albums.
After settling on the energetic and vibrant signature sound discovered through the work of Cuando los ángeles lloran and Sueños Líquidos, which spoke to fans around the world and earned Maná Grammies and sold-out large venue shows in Europe and the Americas, the group has continued to produce a number of smash hit albums (Revolución de Amor, Amar es Combatir, Drama y Luz and Exiliados en la Bahía) and sell out shows around the world. The group's influence continues to also reach beyond the music, as members bring awareness to important issues such as environmental protection.