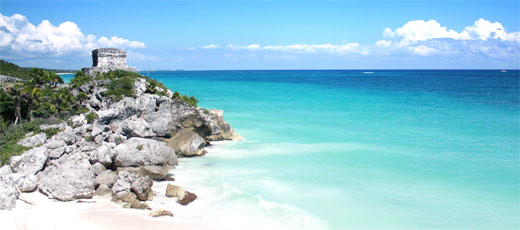 Find out about the best beaches in Mexico - Cabo San Lucas, Playa del Carmen, Tulum, Zihuatanejo, Huatulco, Puerto Escondido, Costa Esmeralda, Mismaloya…
With over 9,000 km of coastline and its great climate, Mexico is a great destination for sun seekers and beach lovers. We have selected 10 of the many beaches in Mexico to present to you, although there are many more to discover.
1. Puerto Escondido (Oaxaca)
In Oaxaca State one of the oldest Mexican tourist destinations is found: Puerto Escondido. Although it has been a prime touristic destination for years, Puerto Escondido has been able to maintain its charm while meeting all the demands and services that visitors desire.
In Puerto Escondido there are two beautiful beaches: Playa Principal and Playa Zicatela. The first is known for its fine white sand and abundant seafood restaurants while the latter is known for its big waves. Zicatela Beach attracts surfers from all over the world who come to enjoy Mexican waves.
2. Huatulco (Oaxaca).
To talk about Huatulco must include information about its fascinating bays. The nine bays of Huatulco form an important center for ecotourism where visitors can enjoy biking, rappelling, zip lining, horseback riding, the Mayan spa Santa Cruz, bird watching and much more.
In addition, the 9 bays are home to 36 beautiful beaches that are surrounded by lush forests and well isolated from the world.
3. Zihuatanejo (Guerrero)
Zihuatanejo, in the state of Guerrero, is a modern tourist center which mixes in perfectly with its surroundings and is known as the "El Dorado of the Pacific". In addition to its many beaches, Zihuatanejo offers a wide range of services and activities: luxurious hotel resorts, adventure sports, fishing, nightlife… and all this is accompanied by their famous hospitality and traditional customs.
4. Playa Ventura (Guerrero)
A pristine area that is perfect for enjoying nature and traditional local life. You will not find grand hotels but you will find small comfortable rooms in the quaint houses of the local people. There are also camping areas and famous open huts where you can hang your hammock and protect yourself from the sun and the rain.
5 Costa Careyes (Jalisco)
Costa Careyes is home to a true microclimate in the state of Jalisco where you can enjoy the sunshine all year round. It is an idyllic area with beaches, islands and lakes that are suitable for diving and fishing. Every year different species of sea turtles visit the beaches of Costa Careyes to lay their eggs. Up to one hundred thousand eggs have been collected in this area to be cared for by expert biologists until they hatch and are released into the sea. This is a great activity to participate in during the summer!
6. Mismaloya (Jalisco)
Mismaloya is a lovely little cove surrounded by jungle located south of Puerto Vallarta. Due to its calm waters, it is a perfect location for sports fishing, diving or water skiing. Opposite the beach is the Los Arcos ecological reserve, a rocky area where you can observe a variety of different marine life species while diving.
7. Cabo San Lucas (BCS)
Cabo San Lucas is a city located in the southern point of Baja California. Cabo San Lucas, together with San José, forms part of a 32 km long touristic corridor full of hotels, stores, restaurants, clubs and more. This area is a great choice for golf lovers especially since their courses are considered some of the best in the world. During the winter you can observe the grey whales that come to give birth, an amazing show for nature lovers.
8. Costa Esmeralda (Veracruz)
Costa Esmeralda, the Emerald Coast, is a 50 km long strip that extends from Nautla to the Tecolutla River. Along this stretch of land you will find many beaches with fine sand and gentle waves. Along the highway that runs parallel to the coast there are many bars and restaurants where you can dine on delicious fish dishes and fresh local seafood.
9 .Playa Escondida (Veracruz)
One hundred kilometers to the south of Veracruz, tucked in the jungle, is Playa Escondida. "Hidden Beach", as it is literally translated, is a pristine beach only accessible by boat, foot, or on horseback. The unspoiled beach offers no accommodation options due to its difficult access. However, there are some small seafood and fish restaurants located here. The closest accommodation is available in the nearby populations of Catemaco, Santiago or San Andrés Tuxtla. If you get the opportunity to visit Playa Escondida, don't miss the amazing sunrise which is perfectly accompanied by the sound of the sea and the jungle bird songs.
10. Tulum (Rivera Maya)
Possibly one of the most beautiful beaches in Riviera Maya, very close to famous Playa del Carmen. While swimming in these amazing turquoise waters you can view the magnificent Maya ruins of Tulum on the cliff side. Tulum was an important administrative center of pre-hispanic Maya culture. In addition to the beautiful beach and the ruins of Tulum, you can also head into the jungle and practice snorkeling in the Grand Cenote and the many underwater caves in the area, a great way to cool off.