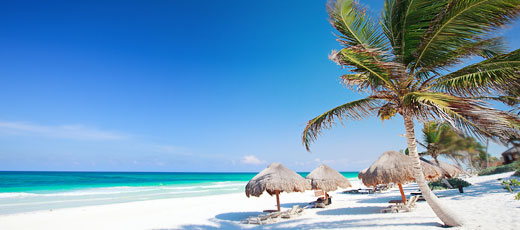 Cancun. In 1970, Cancun was a fishing village surrounded by wild swamp. Today, millions of visitors flock to the Mexican city every year.
In 1970, Cancun was a remote fishing village with a handful of residents surrounded by wild swamp and jungle. Today, millions of anxious visitors flock to Cancun every year from all over the world to experience the tropical beach resort; from wild clubbing for party loving tourists to tours of ancient Mayan ruins for culturally sensitive travelers, Cancun has something for everyone.
Cancun is on the northern Caribbean Sea coast of the Yucatan peninsula in Mexico. The area's year round sunny climate, gentle sea breezes, turquoise waters, white sand beaches and lush jungles have historically attracted an interesting variety of people. The nearby Mayan built the ancient city of Chichén-Itza here, complete with the largest Mayan ritual ball game court and a sacred pyramid temple that served as an astronomical observatory. These amazing stone monuments still stand and visitors are strongly recommended to explore them. In the 16th century, Spanish conquistadors entered the area and later pirates. A wonderful variety of animals also make the area their home including jaguars and sea turtles. Bird watchers can enjoy observing hundreds of bird species such as the colorful Keel-billed Toucan.
All these features make this now famous city of Mexico the nation's largest tourist town. Heavy government investment and careful urban planning in the early 1970s laid the foundation for the rapid development of Cancun. Shopping mall and hotel studded avenues running through large city blocks, golf courses and enormous luxury resorts make it difficult to believe that in 1970 the area had sat largely untouched for hundreds of years. Night clubs provide Cancun with a vibrant night life while theme parks, snorkeling and jet skiing offer families the chance to have fun in the sun. The tourist area is mostly located apart from the town along a fourteen mile stretch of island bridged to the mainland during development.
Removed from, but joined to, all the Cancun beach tourist hype, the town of Cancun itself offers a more down to earth contrast to the mega-resort hotel district. Here, visitors will find opportunities to try authentic Mexican food and enjoy local entertainment. Cancun has about half a million permanent residents with traditions that include rodeos, fishing competitions, folk music, dance performances and vibrant festivals and parades to celebrate local holidays like New Year's day, Three King's Day, Candlemas and Carnaval.
Cancun also offers eco-tourists plenty of chances to get in touch with Yucatan wildlife. Nature lovers can discover one of the largest coral reefs in the world, swim with dolphins, and visit the Sian Ka'an biosphere reserve, a nature refuge and UNESCO World Heritage Site where the environmentally concerned have created countless conservation projects that promote sustainability. Within the reserve you can find a gorgeous tropical wonderland with miles of coastal dunes, evergreen forests and a rich diversity of animal life that includes spider and howler monkeys, anteaters, crocodiles and flamingos. Along with this, these animals share their home with bright botanical life.
What began not long ago as an ambitious government project designed to boost the Mexican economy has erupted into a world-renown tourist destination for sun and adventure seekers. Cancun's wide ranging activity and accommodations options have helped make the endeavor an economic success. Cancun's tropical charm and excellent natural environment, undoubtedly its most attractive feature, continues attracting people to this part of Mexico as it has always done throughout history. Projects such as the Sian Ka'an biosphere reserve will hopefully preserve an important part of this natural paradise for future generations of Cancun residents and visitors to enjoy.