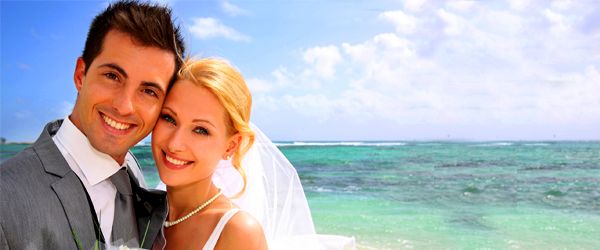 Best Wedding Destinations. Mexico is a heavyweight when it comes to wedding destinations. We are going to explore the top wedding destinations in Mexico.
Mexico is a perfect location for what could be the most memorable day of your life. From its miles of stunning white beaches, to its colonial architecture and heritage, Mexico is so diverse and hosts a number of great locations to get married. The problem is that with the range of sites available it might seem quite daunting and hard to know where to begin, but in this article we are going to explore my top 5 wedding destinations in Mexico.
Wedding on the Beach
Mexico is a heavyweight when it comes to wedding destinations. Whether you're looking to smash a piñata at breakfast, make toasts with a shot of tequila, have your first dance as a married cuple to a Mariachi band, or just have a simple wedding on the beach overlooking the Caribbean Sea, Mexico has it all. The good thing about having a wedding in Mexico is that you actually might save yourself some money compared to doing a traditional wedding, with 200-250 of your closest strangers, instead of enjoying a few days with your closest friends and family.
Acapulco
My top location for a wedding. From exchanging vows in a religious chapel or on a beach, Acapulco is widely considered a top destination to get married. Top activities include water skiing, sunbathing, or deep sea fishing. Thrill seekers are also attracted to Acapulco for its bungee jumping, parasailing and wild water rafting. It also offers a top quality cuisine and is definitely not a place to miss out on.
Cozumel
This is a great place full of activities for before or after the wedding. Why not get married at sunset overlooking the pristine sea and stay at some of the top hotel and spas in the area. There is plenty to do here, including archaeological trips to some of the Mayan settlements and where you can explore some of the sites left behind. From diving and snorkeling, to visiting Mexico Theme Park, or thrill seeking activities like parachuting and bungee jumping, Cozumel has it covered.
Cancun
Cancun is Mexico's top tourist destination and not surprisingly due to its miles of sandy beaches, turquoise sea, vivid nightlife and exciting activities. With a variety of different wedding ceremonies, from on the beach, to overlooking the beautiful landscape, in a catholic church, or in a traditional Mayan village, there is so much to choose from. Cancun has some of the best nightlife in Mexico and is definitely not to be missed out on.
Cabo San Lucas
With hundreds of different species of fish, why not spend the day snorkeling, scuba diving, kayaking or sunbathing in Cabo San Lucas. A popular tourist destination, Cabo is a great place to enjoy yourself while enjoying a peaceful, tranquil wedding overlooking a glorious sunset.
Isla Mujeres
Traditionally Isla Mujeres is a fishing village with gorgeous landscapes, amazing beaches and the perfect destination for a romantic wedding. From fishing, diving to sunbathing and spa treatments, there is so much to do on this island. Why not visit Punta Sur or the Underwater Art Museum, with sculptures on the ocean floor, or soak in the Mexican culture. Isla Mujeres is a top location and definitely not worth second guessing.
There are a few legalities when it comes to getting married in Mexico so it might be worth doing some research before you go. Other than that this is really a once in a lifetime opportunity and something definitely worth doing to make getting married as memorable as possible.