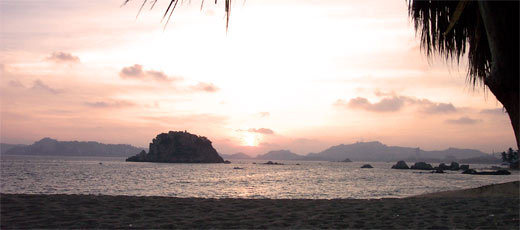 Find out more about the legendary beach resort in Mexico, great destination for golf courses or applying your Spanish skills in Mexico!
For thousands of years Acapulco's warm-water natural bay, stunning beaches and tropical climate have attracted a great variety of people to the area, all of whom have had a dramatic influence on the area's constantly changing landscape. The Olmecs, the earliest Spanish settlers, pirates, Mexican fishermen, wealthy Mexicans, the Hollywood jet-set, American college students and drug traffickers have all left their mark throughout history on this south-west Mexican beach spot, which has become a sprawling city complete with improving modern urban problems, a wild night life, and always beautiful beach scenery.
In 1486 the Aztecs included this area in their empire. By 1531, less than 50 years later, the Spanish had already made the deep waters of the natural bay the sight of one of their most important ports. Spain would use the port for nearly 300 years to do trade with countries of the Far East, until Mexico won its independence from Spain in 1821. Later, ships carrying people caught up in the 19th century California gold rush craze used Acapulco as a stopping point on routes through Panama.
A highway built in 1927 from Mexico City (just 190 miles away) to Acapulco would pave the way for a new era in Acapulco as Mexico's original party town. With the two Mexican Cities joined, well-to-do Mexicans began vacationing on what was still a small coastal town. By the 1950s, Hollywood's leading stars including Elvis and Frank Sinatra started vacationing here and Acapulco soon became the place to be for the rich and famous. The population exploded from around 5,000 to 50,000 in about a decade. Over the following two decades, more affordable hotels heavily developed the coastline here, attracting even bigger crowds of visitors. By the 1970s, although Mexican residents continued to vacation here, Acapulco had long grown out the exotic charm that had attracted its foreign visitors, and it now faced the problems associated with urban centers such as pollution, homelessness, overpopulation and crime. Other Mexican beaches such as Cancun started to become the new rage.
Since the 1990s, in an effort to attract the foreign crowds of yesteryear and relive its former glory as a preferred destination for foreign tourists seeking a Mexican beach vacation, the local and federal governments have pumped millions of dollars into projects such as cleaning up the sewage-filled bay, and the renovation and upgrading of area hotels. Drug traffic-related violence that erupted in 2006 however, has added an extra challenge to the effort.
Today, the city has almost 1 million residents, and has seen many changes throughout history; from an ancient home to the Olmec people, to a bustling beach resort famous for its enormous night clubs and happening nightlife, the tropical waters and sandy beaches of Acapulco have attracted all different kinds of people for thousands of years, and despite its modern problems, it will probably continue to attract people for many more years into the future.