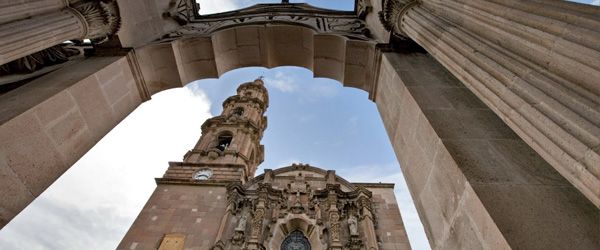 Aguascalientes. One of the smallest Mexican states with a population of around 1 million boasts some of the most renowned aspects of Mexican culture.
Aguascalientes, with a population of around 1 million, situated between the cities of San Luis Potosí and Guadalajara, boasts some of the most renowned aspects of Mexican culture. The state's noted attributes include fine wines, delicious cuisine and stunning landscapes, however, the two neighborhoods which perhaps best exhibit the local Mexican traditions are Guadalupe and San Marcos:
Guadalupe: This district is the origin of what is known as 'Our Lady of Guadalupe' ('Nuestra Señora de Guadalupe') which refers to the Virgin Mary who appeared to the Mexican Saint Juan Diego during a vision he had in Guadalupe in 1513. 'Our Lady of Guadalupe' is a significant pillar of religion and her image is widely considered the national symbol of Mexico.
San Marcos: This district is home to the San Marcos National Fair which is both the most important fair in Mexico and one of the biggest and most widely-regarded events in the whole world. With rodeo demonstrations, exhibitions and, of course, traditional Mexican cuisine, this Fair is a hive of activity, life and color during the last two weeks of April and the first two weeks of May every year.
Aguascalientes is also a place to relax and what better place to wash away the stresses of the day than in the hot springs. These ancient Baths of Ojocaliente, found in the Alameda of Aguascalientes and which date back to the mid-19th Century, are one of the city's most famous attractions. The word 'Aguascalientes' means 'hot waters' in Spanish and these deliciously warming baths really do live up to their name.
The Aguascalientes Museum of Death ('Museo Nacional de la Muerte') is also well worth a visit. Contrary to what might be expected, this museum is not full of macabre images and terrifying cadavers; due to the fact that Mexicans consider death to be a continuity of life and worthy of celebration rather than mourning, you will discover depictions of bullfighters, brides and heroes from the Mexican Revolution, to name but a few. A far cry from the traditional haunts, this museum paints life and death from a distinctly Mexican perspective.
Another popular lure in Aguascalientes is the Three Centuries Square ('Plaza de las Tres Centurias') which can be found in the very important central railway area of Mexico which was, and still is, a crucial railroad center and hub of transportation. The buildings situated in the Square, such as the Old Train Station ('La Antigua Estación de Trenes') and Railway Museum ('Museo del Ferrocarrilero'), are excellent examples of railroad architecture and provide a picturesque insight into the history of the city.
Aguascalientes in Mexico is the perfect place to experience the old traditions of the country as well as the upbeat vibe of contemporary Mexican society. From deep-set religious symbols to a modern festival spirit, there is no question that Aguascalientes has something to offer to people of all ages. Aguascalientes is a place to delve into Mexico's past and ease into the welcoming atmosphere of her rich and marked culture.