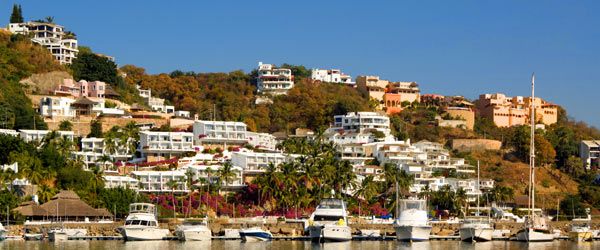 Colima in Mexico. One of the smallest of the Mexican States is located in Western Mexico, bordered by the Pacific Ocean and the state of Jalisco.
Colima is a small state located in Western Mexico, bordered by the Pacific Ocean as well as the Mexican state of Jalisco. Geographically, Colima is divided into the north, the cooler, more mountainous region, and the south, the hotter region that includes the Pacific Ocean coastline. Three quarters of Colima is covered with hills and mountains. The northern border of the Mexican state is marked by two volcanoes, one which is active (The Colima) and the other which is not. The Colima last erupted at the end of the nineties. Colima is home to a diverse number of species including the Xenomys Nelsoni, a type of rodent that is nearly extinct, having had its natural habitat destroyed by deforestation. Colima also contains a number of wild birds including turkeys and Chachalacas, little brown birds renowned for being very noisy. A nursery in the city of Tecomán is dedicated to the survival of endangered reptiles including crocodiles and sea turtles.
The capital of Colima is named after the state in which it is located. Currently situated south of the foothills of the Colima Volcano, the capital city of Colima was originally established further south. The city of Villa de Alvaréz is part of the Colima state and upholds Mexican traditions by hosting bullfighting competitions and Charreada events (similar to a rodeo).
Villa de Alvaréz is also renowned for its Cenadurias, family abodes that have been converted into restaurants serving delicious home cooked meals. Some typical dishes that you might find being served in a Cenaduria are: Pozole (a Mexican soup featuring meat and seasonings); Enchiladas (tortillas filled with various ingredients and covered with a spicy sauce); and Sopes (a fist-sized portion of fried maize soaked in lime topped with cheese, lettuce, onions, refried beans and soured cream).
Manzanillo
Despite being one of the smallest cities in Mexico with regards to population, Manzanillo has some of the highest living standards in the whole country, not to mention the lowest unemployment rate. Perhaps as a direct result of the high quality of life enjoyed by its residents, Manzanillo has become a popular holiday destination over the years.
Manzanillo's abundance of fish made it a popular holiday destination for fisherman but, after efforts were made to promote Manzanillo as a tourist hotspot including various renovations in the downtown section such as painting all the building fronts white, sightseers have been flocking from far and wide to enjoy the scenic Colima coastline. Despite its long sandy beaches and docks for cruise ships, Manzanillo receives less annual visitors than its sister state, Puerto Vallarta.