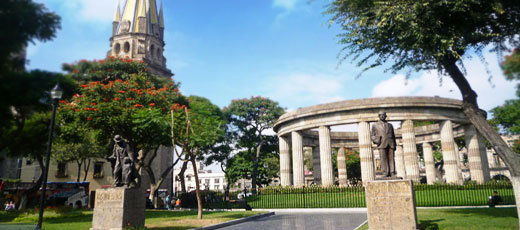 Guadalajara, Mexico. Find our more information about the city of Guadalajara, the capital city of Jalisco in Mexico.
Some people say that a visit to Mexico is never complete without visiting the city of Guadalajara, also known as the "city of roses. Guadalajara is situated on a highland plateau in west central Mexico and is blessed with a pleasant spring-like climate almost all throughout the year. It is Mexico's second largest city with 5 million residents, known as Tapatios, having grown remarkably over the past decade.
Guadalajara is teeming with Mexican culture, tradition and pride. Mariachi music and popular Mexican dishes are known to have come from this city. It is also known to be the home of the world-famous Mexican drink, Tequila. It is also quite renowned for the charro tradition wherein Mexican horsemen dressed in traditional costume participate in a Mexican type of rodeo called charreadas.
You will find a lot of parks, fountains, plazas and greenery in most parts of the city. There is also a sprinkling of major universities, book stores, galleries and museums around. Shopping in this city can prove to be quite enjoyable and satisfying. One can find a lot of little treasures to take home such as native crafts, fine ceramics, pottery, blown glass, and leather goods among others. Most of the finest works of one of the world's greatest 20th century muralists, Jose Clemente Orozco, can also be found in several buildings of the city.
Although Guadalajara has grown and developed quite rapidly over the past decade, it has still managed to preserve its old-world charm. Numerous colonial treasures such as stately municipal buildings, splendid fountain and greenery-filled plazas, magnificent museums, ornate churches and colonial mansions can still be seen and visited and is a testament to the country's, and more specifically, to this city's historically rich past. For those who want to experience authentic Mexican culture combined with the comforts of modernity, Guadalajara is the place to be.

"San Juan de Dios" market in Guadalajara,
the largest open market.

Colonial style architecture in stone and brick behind iron fence.