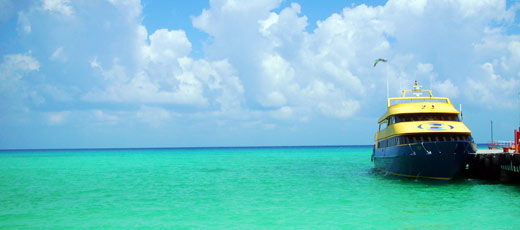 Learn more about the Mayan Riviera and the most alluring places of the Mexican coast.
The Mayan Riviera, or Riviera Maya in Spanish, is a 75 mi. (120 km) stretch of Caribbean coastline just south of the tip of the Yucatán Peninsula in Mexican state of Quintana Roo. The term Riviera Maya was coined in 1999 by the mayor of the municipality of Solidaridad, Miguel Ramón Martín Azueta, and is generally defined as starting in Puerto Morelos, approximately 10 miles south of Cancun, and ending in the town of Carillo Puerto, 25 miles south of Tulum.
The Mayan Riviera is a major vacation destination with its ideal average weather of 75-77°F (24-25 °C), beautiful white sandy beaches and crystal clear blue waters. Large all-inclusive resorts dominate the industry but boutique hotels, luxury villas and yacht charters are also available for accommodation. A visitor can dine in a multitude of fine restaurants that are scattered throughout the region and enjoy a variety of activities and excursions.
The Mayan Riviera possesses the second largest barrier reef system in the world and is home to a many aquatic activities such as jet skiing, snorkeling, scuba diving, dolphin encounters and sailing. More adventurous visitors can go on jungle tours, zip-lining, horseback riding and much more. Other major tourist attractions include visits to the various Mayan archeological sites in the area as well as to the natural eco-park reserves.
Major Cities & Attractions:
Akumal
Akumal is a beach front village excellent for viewing sea turtles, swimming and snorkeling. 2.5 mi. (4 km) to the south is Aktun Chén, an underground river and subterranean cave.
Cancun
Cancun, with its international airport, is the gateway into the Riviera Maya and a major touristic destination. The island tourist zone of Cancun is shaped like the number seven with bridges connecting it to the mainland. Apart from lounging on the beach, Cancun offers a broad range of activities, theme parks, dolphin encounters and shopping. Additionally the city attracts tourists of all budgets due to its extensive variety of hotels ranging from relatively inexpensive motels to high-priced luxury hotels. Cancun also is home to some small Mayan ruins: Las Ruinas del Rey and El Meco. You can also take a tour inland to Chichen Itza, the ruins of the Mayan Empire capital city and UNESCO World Heritage site.
Playa del Carmen
Playa del Carmen, originally a fishing town, became a popular tourist destination for people trying to escape crowds. Located just across the channel from Cozumel, an island famous for scuba diving and frequented by cruise liners, Playa del Carmen boasts nice beaches with turquoise water and cenote (natural well) diving.
Xcaret Eco-park, just south of the city, offers a butterfly pavilion, underground rivers, a Mayan village re-creation, various water activities, as well as animal and fauna exhibits.
Approximately 3 mi. (5 km) south of Playa del Carmen is Río Secreto (Secret River), an underground labyrinth of a stunning underground river with thousands of dramatic stalactites and stalagmites.
Puerto Morelos
Puerto Morelos is a small fishing town and port between the mainland of the Yucatán and Cozumel Island. Less crowded and more affordable resorts are abundant in Puerto Morelos making it another ideal tourist destination.
The Crococun Crocodile zoo, Botanical Gardins and cenote routes are increasing tourism here. Puerto Morelos' coast forms part of the Parque Nacional Marino (National Marine Park) of the Mesoamerican Barrier Reef System, the second largest reef in the world. The reef's proximately to the shore makes it an ideal place to snorkel, dive or windsurf.
Puerto Aventuras
Puerto Aventuras is a residential community resort for those who want a relaxing vacation. It is a world renowned full-service facility, designed exclusively so that the beach is visible from any location.
The main activity in Puerto Aventuras is relaxation; but it is also great for sailing, fishing, scuba diving or dolphin encounters. It also has a marina and a golf course for guests to enjoy.
Tulum
Tulum was discovered by the Spaniards in 1518, is town divided into four main areas: the town, the tourist hotel zone, the biosphere reserve and UNESCO World Heritage site of Sian Ka'an and the archaeological site featuring Mayan ruins. Tulum's ruins are the best preserved remnants of a Mayan walled-city perched on a 39 ft. (12m) cliff with a picturesque backdrop of the Caribbean Sea. The site is relatively compact and is the third most visited archaeological site in Mexico, after Teotihuacan and Chichen Itza.