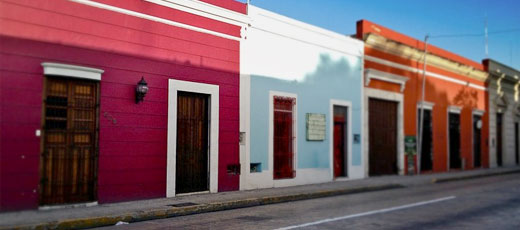 Merida in Mexico. Merida, also known as "The White City", is also one of the most peaceful and safest cities in Mexico.
Merida is the capital city of the state of Yucatan and is situated in the northern part of the Yucatan peninsula, enclosed by the Carribean Sea and the Gulf of Mexico. Although not as well-known as other Mexican cities like Cancun or Tijuana, Merida, like Oaxaca, is a testament to Mexico's rich cultural heritage and tradition. It is considered to be the country's foremost point of entry for the study and exploration of Mayan archaeology. The world's most famous archaeological sites are just a stone's-throw away from this charming little city. With a small population of less than 1 million, most of the inhabitants and residents of Merida are of Mayan descendant.
Merida is also known as "The White City. This is because of the fact that most of its buildings are white in color and most of its residents make an effort to keep the place clean. It is also one of the most peaceful and safest cities in Mexico.
Although Merida is often regarded as provincial and old-fashioned, there are still a lot of attractions that will surely amuse and give pleasure to ordinary tourists. Joining a historical sight-seeing tour and shopping for Mayan artifacts and native products are just some of the many things that one can do when in Merida. Diverse ecotourism sites are also plentiful in the area including underground caves, breathtaking mangroves and lagoons, etc. A visit to the Paseo de Montejo, the city's main access road and often compared to Paris's Champs Elysee, will truly amaze the traveler who has an eye for original art work and sculptures created by up-and -coming local and foreign artists.
Traveling to Merida is easy as it has its own international airport, the Manuel Cresencio Rejon International Airport. Within the city, one can take a leisurely stroll along the road or take the local bus or hire a taxi cab.