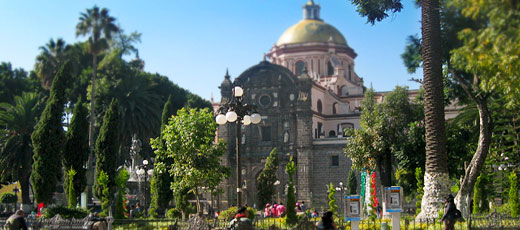 The City of Puebla. Founded in 1531, the capital city of the state of Puebla is considered to be one of Mexico's oldest Spanish cities.
Puebla, the capital city of the state of Puebla, is located in the Puebla Valley, 129 km southeast of Mexico City. Founded in 1531, it is considered to be one of Mexico's oldest Spanish cities. It is quite famous for its rich historical culture, unique architectural structures, its sumptuous native dishes, Talavera ceramics, onyx crafts and booming textile industry. Apart from this, UNESCO, in 1987, declared Puebla to be a World Heritage Site.
The Centro de Convenciones Puebla, El Centro Civico 5 de Mayo, and the monument to La China Poblana are among some of the tourist-worthy attractions are among the sites you shouldn't miss when in Puebla.
The Centro Convenciones Puebla, Puebla's new Convention Center, is located on Heroes del 5 de Mayo, a few steps away from a landmark church, the Templo de San Francisco. The Convention Center is truly a unique and remarkable structure that combines historic restoration with modern architecture.
On the other hand, el Centro Civico 5 de Mayo, also known as the Civic Center, is situated on a steep hill overlooking the city. Eight structures are housed inside the Civic Center complex: the No-Intervention Museum at the Loreta Fort (Museo de la No Intervencion/Fuerte de Loreta); the Anthropology Museum (Museo de Anthropologia), the Guadalupe Fort (Fuerte de Guadalupe), the State Fairgrounds and Exhibition Hall (Expo Puebla), the Planetarium (El Planetario), the Natural History Museum (Museo de Historia Natural), the Relicario Bullring (Plaza de Toros El Relicario), and the Reforma Auditorium (Auditorio de la Reforma).
Lastly, a tour of Puebla is not complete without visiting the monument to the "Puebla China Girl". Stories claim that a young Indian girl was kidnapped by pirates and sold to a poblano named Miguel de Sosa and his wife. The girl was adopted by the couple and baptized with the name "Mirrha. After the death of her adoptive parents, Mirrha married the Chinese servant of the local parish priest. Poblanas of her time and even centuries after admired her modesty and acts of charity and decided to build the monument in her honor.
Getting to Puebla is quite easy. Estrella Roja buses depart for Puebla from Mexico City International Airport every 30 minutes. Travel time from Mexico City to Puebla by express bus usually takes about 1 hour and 50 minutes.

Sierra of Puebla Pahuatlan District

Puebla street