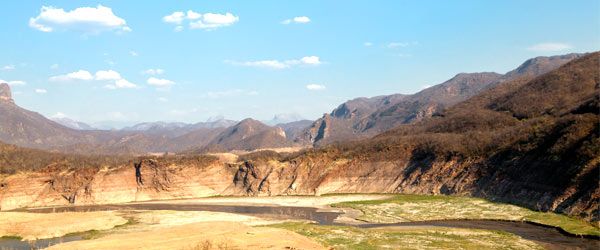 Copper Canyon. The Canyon, called Barranca de Cobre in Spanish, is a group of six canyons located in Sierra Madre Occidental in Mexico.
Canyons in Sierra Madre
Copper Canyon, or Barranca de Cobre in Spanish, is a group of six canyons located in Sierra Madre Occidental in Mexico. The Canyon is longer and in some parts even deeper than the Grand Canyon in Arizona. The Spanish arrived in Copper Canyon in the 17th century, in a bid to explore and try discover gold and silver but also spread the word of God through Christianity. They were to discover silver in the area as the Spanish used some of the native tribes as slaves for mining.
The Canyon was formed by natural erosion from 6 rivers which drain the Sierra Tarahumara. The walls of the canyon are a copper green color which is where the name has come from. The increase in human population and activity is thought to be a threat to the ecosystem of the Sierra Tarahumara Occidental Region. Government efforts to create a tourist friendly and safe environment have had serious repercussions not only to the environment but to the indigenous cultures residing there. All the rivers merge from the Mexican canyon to form the Rio Fuerte and empty into the Sea of Cortez. The construction of roads in particular in what were protected zones for animals has caused serious damage to the wildlife which was residing there. This has accelerated the process of erosion. This combined with overharvesting has already led to the extinction of the Imperial Woodpecker and the Mexican wolf.
Shockingly 98 percent of the natural and original forest has been cut down in lieu of a massive harvesting project. Although the forest is now protected legally, enforcing this can be quite difficult especially with a lack of funding. The government is trying to stop the growth and cultivation of opium by spraying herbicides, but the result is that it is a threat to a number of living species in the area. The Tarahumara frog quantity has taken a serious hit due to the air pollution from open mining, which causes a lot of pollution. The Rio Fuerte has also got plans underway to build a dam which will cause massive problems and significant damage to the tropical forest and wildlife. Conservation efforts remain slow due to the poor enforcement of environmental laws and a lack of financial support.
There are many ways for tourists to enjoy copper canyon and take advantage of its magnificent scenery. Hiking, biking, rafting, riding and driving are very popular in the area. When travelling to the canyon the most popular way to do so is by train, but it is also possible to drive. Travelling between Chihuahua and Los Mochis where the Canyon is located takes about 15 hours. The National Park was established to help tourists take advantage of this incredibly unique area, and is located in several municipalities throughout Mexico.