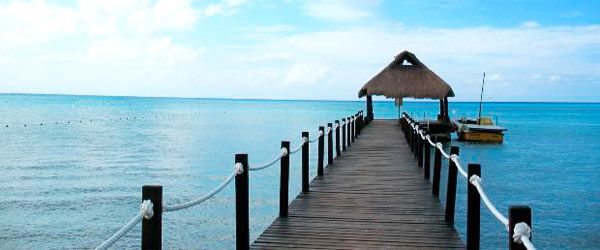 Cozumel Island. Cozumel is Mexico's largest island and is located in the Caribbean Sea just 19 km off the Yucatan Coast.
Cozumel is Mexico's largest island and is located in the Carribean Sea just 12 miles (19km) off the Yucatan Coast and close to Play del Carmen. This island pertaining to the Mexican state of Quintana Roo and is a famous destination for scuba divers from around the world thanks to its variety of magnificent dive locations and for all levels of enthusiasts. The island is characterized by lush greenery, white-sand beaches, crystal clear Caribbean waters, lagoons and mangroves.
Cozumel has been ranked by divers as one of the top five scuba-diving and snorkeling sites in the world. In its waters, one can find a spectacular treasure trove of marine life and the residents of Cozumel are very proud and very protective of this. In fact, the Parque Marino Nacional Arrecifes de Cozumel (or the Cozumel National Reef Marine Park) and the Parque Nacional Chankanaab (or the Chankanaab National Park) are only some of the places created to protect the rich and diverse marine life found in the island.
But Cozumel is not just for scuba-divers or water sport enthusiasts. Tourist come from all over to enjoy the various offerings that Cozumel has in store for them. There is a championship golf course designed by Jack Nicklaus, luxurious spas and numerous beach resorts that offer all class of amenities and services. Enjoy the excellent restaurants and Yucatán cuisine that includes a vast selection of locally caught seafood dishes, and the lively bars and pubs that serve regular as well as exotic beverages and sustain a flourishing night life.
In the past few years, Cozumel has grown in popularity thanks to it being an important port of call for tourist laden cruise ships which can increase the one day population of the island by as much as 30%. The tourism industry is the island's main source of income and aware of this, the island has made an effort to maintain their way of life and preserve their cultural and natural inheritance.
There are two ways to get to Cozumel, by boat or by airplane. There are flights to and from mainland Mexico as well as international flight to places like Toronto, Montreal, Dallas, Atlanta and Houston. The ferry between Cozumel and Playa del Carmen takes approximately 45 minutes.  These ferries run almost hourly throughout the day, year round with ferries departing as early as six in the morning.