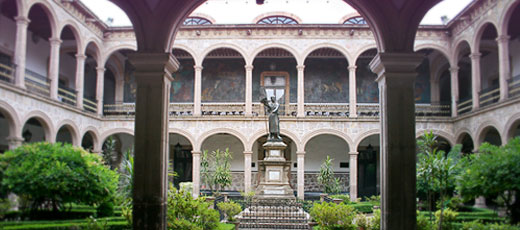 Mexican Universities. Find out about the significant improvements in Mexico's education system and where you can study in Mexico.
Mexico's educational system has improved significantly in recent years. The country's literacy rate is currently over 90%.
There are about 70 universities all over the country, both public and private. Each state has at least one public university to ensure that Mexican citizens have adequate access to education.
The oldest university in the Americas that is still operating can be found in Michoacan. That university is the Colegio de San Nicolas Hidalgo, which was established in 1540.
One of the most prominent public universities in the country is the National Autonomous University of Mexico. Also known as UNAM, the university has produced several remarkable individuals, including three Nobel Prize winners, several national artists and a number of former Presidents. UNAM has been included in the list of the Top 200 universities in the world. Another important public university is the National Polytechnic Institute, also known as IPN.
Mexico also has prestigious private universities. One of this is the Technological and Higher Education Institute in Monterrey, or ITESM. It is one of the top business schools internationally. Several government officials are also graduates of this school. Other notable private universities in Mexico include the Autonomous Technological Institute, or ITAM, and the Ibero-American University.
Private Mexican universities are a lot more expensive than public universities; to compensate, certain public universities, such as ITESM, offer financial aid to those who are qualified but are less privileged.
There are different qualifications for entry to different Mexican universities. If you want to study in Mexico, you should apply for a student visa, which can last anywhere from a month to a year. The Mexican government can also request that you show them proof of funds, insurance, and a letter of acceptance from a university in Mexico. You may also want to apply for an International Student ID card and avail of various discounts.