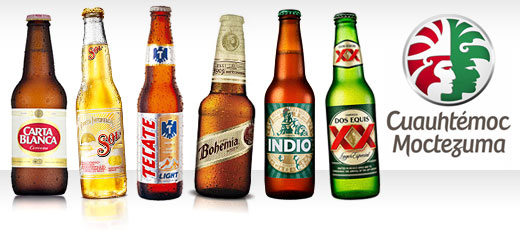 Mexican Beer. The Cuauhtémoc Moctezuma Brewery is one of the largest producers of beer in Mexico. They also produce some of the most iconic Mexican beers.
Beer in Mexico
Cuauhtémoc Moctezuma is a Mexican beer producer that has been in business for over 120 years. It first began on November 8, 1890, when Don Isaac Garza and Don José Calderón founded the Hielo y Cerveza Cuauhtémoc factory in Monterrey. Their first beer, Carta Blanca, which is still popular today, became well known across the country and their first beer barrel, produced in 1893 won first prize in the Chicago and Paris fairs. This put Cuauhtémoc Moctezuma on the map, showing their potential to become an international brand of beer.
With the popularity of the Carta Blanca beer, the company developed and began producing other varieties. More breweries were needed in addition to the original one in Monterrey to cope with the high demand, and there are now six more, situated in: Tecate, Navoja, Toluca, Orixizaba, Guadalajara and most recently, Chihuahua. The success of the brewery also meant that more factories and companies were needed to supply the products' packaging, such as glass bottles and cardboard boxes. The companies Vidrios y Cristales de Monterrey S.A. and Fabricas de Carton Monterrey, along with others, were set up in the early 1900's to provide what was needed.
As well as helping the company to grow, this provided many jobs for people in the local area. It is estimated that Cuauhtémoc Moctezuma now has around 19,000 employees in its plants, as well as around 90,000 indirect employees. The company has always been recognized for how well it has treated its employees. In 1918, it set up the Sociedad Cuauhtémoc y Famosa, which offered health and education benefits to the workers and their families. Later on, they also reduced working hours from 12 to 9 hours per day.
In 1985, the Cuauhtémoc label joined with the Moctezuma brewery to give the company the name it has today, as well as incorporating several other beers into the brand. The most famous beers produced by Cuahtémoc Moctezuma are:
Carta Blanca
The original, award winning beer, this is a light tasting lager that is perfect for hot sunny days. It is still very popular throughout Mexico, as well as in the US, although it is not widely exported.
Superior
As the name suggests, this was designed to be a 'superior' beer that wasn't for drinking everyday. In Mexico it is still considered as more of a premium than a mainstream brand of beer. It also has a light but slightly sweet flavor.
Tecate
Named after the brewery where it was first produced, this beer is refreshing, with a slight bitter aftertaste. It is packaged in easily recognizable red colored cans and is also popular in the US.
Sol 
Another good hot weather beer with a citrus flavour, particularly popular for barbeques. This was also one of the original Cuauhtémoc beers.
Dos Equis (XX)
This is a well known brand throughout Mexico and the US, named XX as it was first produced at the turn of the 20th century. It was originally brewed by a German company, but was later incorporated into the Cuauhtémoc Moctezuma brand. It is an ideal accompaniment to spicy Mexican food, but its German style is also evident. It also comes in an 'amber' variety, which has ale-like qualities.
Noche Buena
This is a unique beer produced by Cuauhtémoc Moctezuma, only around the Christmas holidays. Noche Buena literally means 'good night' in Spanish, but also is also the term for Christmas Eve and the poinsettia flower, which appears on the logo, which explains its seasonal production. It is reddish in color and has a caramely flavour.
Indio
This is another dark colored beer with caramel taste. It was originally named Cerveza Cuautémoc, but was renamed after everyone came to know it as the beer with a picture of an Indian on the bottle.
Bohemia
Like Superior, this is a higher class of beer, and has won many awards to prove it.
The brewery in Monterrey now has a museum and is open to visitors. Afterwards you'll be offered a free glass of the famous Carta Blanca to try.
In 2010, Cuauhtémoc Moctezuma strategically became part of the Heineken Incorporation, to help increase its international export. The company has succeeded in both remaining as a traditional Mexican beer brand that plays a part in the local community, while profiting from globalization to achieve better world wide recognition.