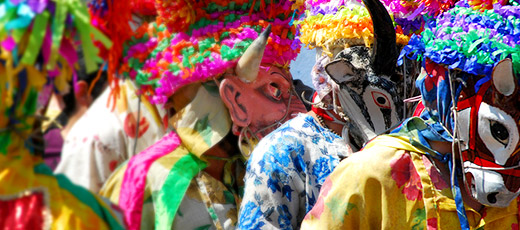 Carnival came to Mexico with the Spanish colonial era. It was very popular since it adapted some similarities with traditional indigenous Mexican festivals.
Popular festivals in Mexico date back many years just as they have all across Latin America. In this way when it comes to Carnival, Mexico is not an exception as this festival has become a popular cultural tourist attraction. Carnival takes place just before lent in Mexico in February or March which is intended as a period for meditation and reflection, but in reality it is more of a time for outdoor parties.
Derived from the Latin, goodbye to the flesh, Carnival originally represents the last moment to enjoy earthly pleasures for Catholics before a period of 40 days of fasting during lent. After Ash Wednesday, Catholics are required to give up the eating of meat, among other things, until the arrival of Easter Sunday. Carnival came to Mexico with the Spanish colonial era. It was very popular among the indigenous people since it adapted some similarities with other traditional indigenous Mexican festivals. However, after Mexican independence, celebrating Carnival was discouraged by liberal movements. The festival today is no longer linked as strongly as it was to its religious origins, having become a more popular and secular celebration which even promotes ancient pre-Columbian customs. The festival has now become a massive tourist attraction in places like Mazatlan, Veracruz, Ensenada, and La Paz among other places.
There is a lot to take part in when it comes to Carnival. People dress up, enjoy good food and music, go for rides on amusement park rides, and party into the night. In the street, people of all ages throw confetti filled eggshells called cascarones. There are also organized parties and private events which usually charge an entrance fee. Mazatlan has the largest street party with more than 300,000 people attending and charges only a small amount to take part in the festivities. There are also awards which are given out such as the Flower Queen and the Flowery Poem, as well as other contests.
The two largest celebrations of Carnival in Mexico are in Veracruz and Mazatlan, as well as in Baja California and the Yucatán peninsulas. Different cities celebrate carnival in different ways. The festivities usually begin in the same way, by burning of large mannequins called the Mal Humor, as well as the election of a carnival Queen, and a parade of floats. Festivities usually go on for 5 days until the early morning on Tuesday when it ends, although some cities celebrate it for up to nine days. During the festival the inhabitants of the city are drowned in colors, traditional food, laughter, music and dancing. If you are thinking about going to Mexico and really want to witness one of the greatest traditional festivals, Carnival is a great experience and not one to miss out on.