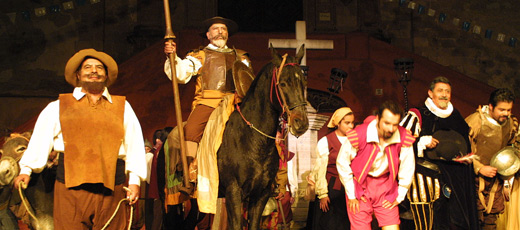 The Cervantino. The Festival Cervantino takes place annually in Guanajuato (Mexico), celebrating arts and culture - it is a worldwide renowned event.
The Festival Internacional Cervantino, or International Cervantes Festival as it is otherwise known, takes place annually in Guanajuato, Mexico, celebrating art and culture. This internationally recognized event puts this city on the world stage every year continually increasing its cultural importance.
El Cervantino, as it is popularly called, primarily serves to honor the contributions of Miguel de Cervantes to the culture of Mexico, however in recent years it has transformed into more of a commemoration of artists and the art movement as a whole. Taking place during two weeks in October, this is definitely a festival worth experiencing.
Begun in 1972 by university professor Enrique Rueles, each edition has seen this festival grow in breadth and scope. In 2010, the festival coincided with the 200 year anniversary of Mexico's independence, as well as the 100 year anniversary of the Mexican revolution making it an important national event. That year saw artists from Argentina, Chile and Columbia participate as well as artists from the Mexican states of Chihuahua, Querétaro and Michoacán.
Historically the exact date of conception of this festival is not known, however its roots go back to a much smaller event started in the 1950's. Becauase of Guanajuato's Spanish Colonial heritage it was easy for students from the University of Guanajuato to find the inspiration to stags the plays of Miguel de Cervantes in the historic areas of the city. This tradition led to the recognition and fame within Mexico.The start of this festival is considered to be in 1972 with the backing of the Mexico's President, Luis Echeverria Alvarez in 1972. In that year, with the backing of the federal government, this small festival changed its name and grew in ambition; the popularity of this event spread and artists from around the wanted to participate.
The first El Cervantino took place on September 29, 1972 and since then has played a large role in helping the city increase its visibility and become an important tourist destination nationally and internationally; this was further helped following its accreditation as a UNESCO World Heritage Site. Today, as visitors now attend from all over the world, this multi-cultural event often sells out months before its starting date and finding a hotel room in the surrounding area a difficult task during the festival.
This is a festival worth seeing for its variety and artistic diversity. It is not uncommon to see in the program, along with the works from Cervantes, concerts by world famous groups like Radiohead and theater performances from companies that have included Stomp. Artists such as Rudolph Nureyev, Phillip Glass, Ely Guerra and Horacio Franco have also participated in this festival. Since the entire city goes all out during the festival there are many organized activities outside of the festival including small coffee house performances as well as music concerts with poplar music groups. Furthermore it is not uncommon to see theater, living statues and musicians lining the streets and occupying plazas around the city.