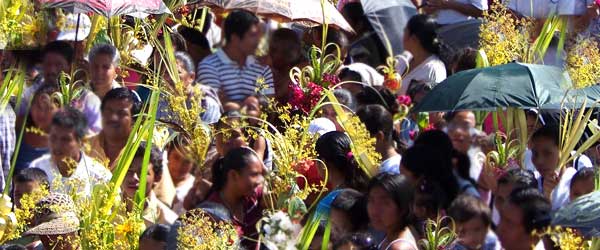 Holy Week in Mexico. Along with Mexican Christmas traditions, Holy Week traditions are the most intensely celebrated religious festivities in Mexico.
Each day of Holy Week in Mexico, from Palm Sunday to Easter Sunday, offers different traditions across the country including special gatherings for mass, processions and performances. All of these events celebrate the story of Jesus' ministry, crucifixion and resurrection. The tradition of biblical reenactments goes back to the times of the Spanish conquest when Spaniards acted out presentations of the Bible to introduce and promote the Christian faith. This was done with the intention of teaching and converting the indigenous people of Mexico. Other features of Holy Week celebrations in Mexico include pre-Columbian indigenous traditions. Along with Mexican Christmas traditions, Holy Week traditions are the most widely and intensely celebrated religious festivities in Mexico.
Holy Week marks the end of Lent, a 40 day period when Christians traditionally participate in acts of self depravation as a way of showing penitence. On Palm Sunday, the first day of Holy Week, people in towns and cities across Mexico carry palm leaves woven by artisans into intricate cross designs. In each town or neighborhood, a selected group of people representing Jesus and his disciples lead a procession, paying homage to Jesus' entry into Jerusalem as described in the Bible.
Procession traditions in Mexico vary widely from city to city, with some places having a greater reputation than others as well as differing amounts of visitors. Around two million people gather every year in the Mexico City neighborhood of Iztapalapa to watch Mexico's most famous Passion Play and one of the largest yearly cultural events in the world. Here, around 450 local community members prepare months in advance to participate in this Passion Play that reenacts the last moments of Christ with elaborate costumes and dramatic energy.
The small silver mining city of Taxco, 100 miles south of Mexico City, also has well known processions in which some penitents endure painful acts of flagellation while others walk with massive bales of thorny cane on their backs. Some penitents will also carry one hundred pound crosses through the hills of this old colonial town. Here, as in many Mexican towns, Holy Thursday performers act out the last supper. In other towns such as San Miguel de Allende, the townspeople and thousands of visitors themselves become the attraction when they participate in the "procession of silence". A somber atmosphere falls on this colonial city creating a mood that makes observers and performers reflect on Jesus' betrayal and crucifixion.
Celebrations on Easter Sunday cast aside the solemn mood present during holy week leading up to Sunday, which is the final day of this week long event. Easter Sunday, the day when Christians celebrate Jesus' miraculous resurrection from the dead; meet up after attending mass to enjoy music, dance and celebrate the resurrection of Jesus. An event that recalls the burning of Judas is among the many popular activities celebrated on this day, where paper maché figures designed to represent Judas Iscariot, the devil and even current political figures associated with evil are hung above the heads of anxious crowds, set ablaze and exploded to pieces.
If you plan to check out these Mexican celebrations for yourself, keep in mind that you might want to arrange your trip in advance. Schools usually close during this time and most many people take off from work to travel and experience Holy Week in their country. Travelers to Mexico should keep this in mind to avoid unexpected complications during this Mexican holiday as accommodation and transportation are heavily booked. Highways can also be very congested. Mexican Holy Week festivities are well worth seeing despite the challenges of traveling during this time of year, and offer the visitor a vision of the culture and history of Mexico that only comes around once a year.