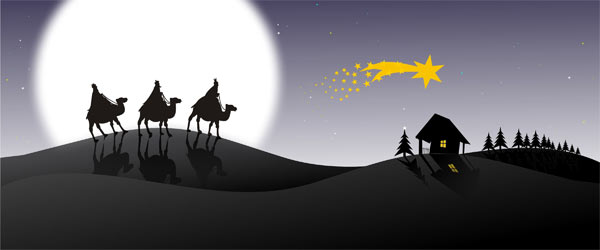 Mexican Christmas. King's Day is just one of the many special days during the Mexican Christmas celebrations. However it's a very special day!
Many Latin American countries celebrate the figure of a mysterious Christmas-time gift giver that travels the world by sky and sea depositing goodies in the homes of well-behaved children everywhere. But he doesn't wear a bright red suit. He doesn't ride in an open sled drawn by flying reign deer either. He rides a camel. And there isn't just one, but three of them. These are the wise men from the biblical tale of the Magi's visit to the baby Jesus. They bear their gifts on King's Day (January 6th), a special day in Mexico, especially for anxious children.
King's Day in Mexico, as in other countries, commemorates the Bible's account of three wise men that emerged from a distant land to follow the fateful rise of a long awaited star. They knew that the star would guide them to the place where a special baby would be born. The star guided them to a manger in Bethlehem, where they offered the new-born Jesus gifts of myrrh, frankincense and gold. Today, tradition holds that these wise men, or kings, continue offering gifts to children, secretly visiting their houses at night and leaving presents in shoes that the children have carefully placed where the kings can find them. Sometimes, considerate children also leave out bowls of water so the camels can stay hydrated on their long late-night journey around the globe.
The Rosca de Reyes is a special Christmas pastry and a King's Day celebration staple. This ring shaped cake hides a surprise: a small figure of the baby Jesus. Mexican tradition suggests that the person that discovers the figure in their piece of cake must give a party on the second of February, Candlemas Day. This tasty cake is loaded with biblical symbolism; the figure hidden within the dessert reminds eaters of baby Jesus' need to remain hidden from a violently jealous King Herod, who upon hearing of the birth of a new king in Bethlehem sent henchmen to kill all new born boys in the area. The knife that cuts the cake represents the henchmen's knives. The ring shaped cake itself, topped with colorful candied fruit, recalls a king's crown.
Christmas in Mexico
King's Day is just one of the many special days during the Christmas season in Mexico. Innocents' Day, on December 28th, is a day for playing practical jokes on friends and family while on New Year's Eve party lovers dance the night away. Of the popular Mexican holiday celebrations during Christmas, only Christmas Day and New Year's Day are public holidays when workers and students get the day off. Mexican's are exchanging gifts on Christmas Day more and more. Over the years, the ubiquitous Christmas-time image of Santa Claus seems to have quietly pushed its way into the country in an attempt to steal some of the kings' limelight. Three King's Day in Mexico however, continues offering people of all ages a much appreciated excuse to get together with family, celebrate gift giving and enjoy a delicious Rosca de Reyes.