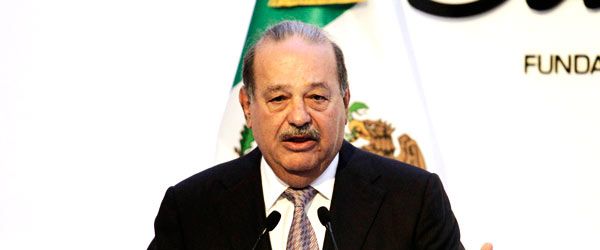 Carlos Slim. The Mexican businessman has been ranked at the richest man in the world since 2010 when he overtook Bill Gates in the world rich list.
Mexican businessman, Carlos Slim, has been ranked by Forbes as the richest man in the world off and on since 2010 when he overtook Bill Gates in the ranking of The Worlds Billionaires. This was the first time since 1994 that a non-American had topped the list. Interestingly, another person in the top 10 of the billionaires list is Amancio Ortega, founder of Zara and the owner of Inditex, a self-made man from La Coruna, Spain. Mr. Slim can be described as a business magnate in view of the fact that he has achieved wealth from one particular industry, the telecommunications industry. Mr. Slim is currently chairman and chief executive of Telmex.
Mr. Slim's Lebanese father, Julian, was sent to Mexico by his mother as a fourteen year old boy. He was sent with his brothers to escape conscription, the compulsory enlistment into military service. Despite the fact that he could not speak a word of Spanish, he was full of energy and enthusiasm about the adventure that awaited him in this foreign land. In 1911, Julian and his brother Jose moved to Mexico City where they founded a dry goods store. They called it the Star of the East in honor of their native Lebanon in the East Mediterranean. They contributed Mex$25,000 each and three years later Julian bought Jose's share of the business for Mex$30,000. Thanks to all Julian's hard work, by 1921, the Star of the East was worth Mex$100,000. By 1922, Julian had acquired 11 properties and was worth over a million pesos.
Carlos Slim was born on the 28th January 1940. Julian taught Carlos and his siblings the importance of good money management from a young age by giving them a weekly allowance and a savings book. Consequently, each of Julian's children managed their finances and developed their own wealth. Young Carlos Slim opened his first bank account when he was twelve years old and bought shares in the Banco Nacional de México. Suddenly, in 1953, Julian passed away turning his wife and children's lives upside down.
Carlos worked as an algebra teacher while he studied civil engineering at the National Autonomous University and started several businesses while he was still young. By his mid-20s, he was already very successful. His involvement in the construction and mining industries ultimately diversified into other businesses along with Mexico's largest telecommunications company.
Mr. Slim married his (late) wife Soumaya in 1965 and began to build the foundations of his mega-conglomerate, Inmobiliaria Carso (now known as Grupo Carso). The name Carso is an amalgamation of Carlos and Soumaya's first names. In 1990, Grupo Carso acquired Telmex Telecommunications. Telmex offers internet access as well as telephone services throughout Mexico and owns 90% of the phone lines in Mexico City.
Mr. Slim recently created the Carso Health Institute which aims to improve the health conditions of women and children throughout Mexico and Latin America. Currently, there are more than twenty thousand women who die annually due to complications in child birth for example; the Carso Health Institute is helping to minimize these problems.
In February of 2013, fellow billionaire, Bill Gates visited Mexico to attend a series of events with Carlos Slim. The pair was invited to the International Corn and Wheat Improvement Center whose headquarters are located just outside Mexico City. The two wealthiest men in the world were asked to officially open the new facilities. The center employs 1,100 people who are working together to decrease hunger and increase standards of living in Third World countries. Projects focused on increasing corn and wheat production are being carried out by employees of the organization and philanthropist, Carlos Slim, has financially supported their efforts every step of the way.