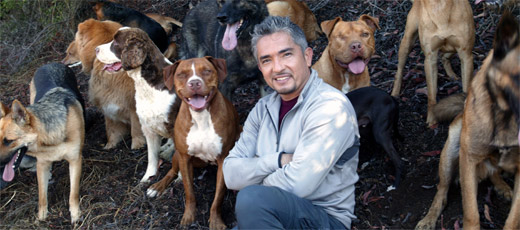 Cesar Millan is a self-trained canine-behavior expert and dog trainer, famous for the hit National Geographic reality series The Dog Whisperer
Cesar Millan, originally César Millán Favela, is a self-trained canine-behavior expert and dog trainer, famous for the hit National Geographic reality series The Dog Whisperer and as a New York Times best selling author. In 2010 he ended his 16 year marriage with Ilusión Wilson Millan, with whom he has two sons.
Born in 1969 in Culiacán, a city in the state of Sinaloa, Mexico, the future Dog Whisperer spent much of his time observing a wild pack of dogs that roamed his grandfather's ranch. His fascination with the dogs earned him the nickname El perrero, or "dog-boy" with the locals. Indoors, his favorite television series involved impeccably trained dogs, such as "Lassie". Later in Mazatlan, Mexico, where the family had moved, thirteen year old Cesar Millan declared to his mother that one day he would be the best dog trainer in the world.
The Dog Whisperer set his eyes on Hollywood where he dreamed of making a name of Cesar Millan. A major obstacle, however, between him and his dreams was the US-Mexican border and the fact that he barely spoke English. In 1990m, at the age of 21, determined Cesar Millan paid a guide to illegally take him to San Diego, California. Once there, Millan was an illegal immigrant who was homeless for two months, time which he spent living as a tourist and admiring America and its beautiful freeways. Cesar Millan would gain legal status in the USA in 2000 and become an American citizen in 2009.
The future Dog Whisperer found work in a dog-grooming salon where he earned attention and his first clients who noticed his dog-handling skills with nervous and aggressive canines. Millan later moved to Los Angeles where he found a job at limo-detailing business. It was there that Cesar Millan met Jada Pinkett Smith, who not only became his first big named client but also believed in his skills so much that she paid an English teacher to visit Milan for one year. Around the same time, the Dog Whisperer bought a van and opened a dog-training company which helped him grow his client base and following.
Cesar Millan was starting to become a familiar face in Los Angeles, known for skating through streets with a pack of leashed dogs following behind. By 1998, his success as a dog-trainer permitted him to open a two-acre Dog Psychology Center in South L.A., dedicated to the rehabilitation of large breed dogs. Through word-of-mouth, knowledge of the Dog Whisperer's training skills spread and his clientele grew. Top entertainment industry professionals became clients and in December of 2002 Cesar Millan, the Dog Whisperer was mentioned in mainstream national media for the first time. The article, by People magazine, featured action director Ridley Scott who marveled that his two Jack Russell terriers had been completely changed after working with Millan.
The Dog Whisperer's growing list of famous Hollywood A-listers led National Geographic to offer Cesar Millan his own show in 2004. The show features the dog-trainer as he visits households with dog troubles and trains the human owners to be pack leaders and create balanced pets with exercise, discipline and affection (in that order). The Dog Whisperer was a huge success for National Geographic and was expanded to a full-hour format in 2006. The reality series also earned an Emmy nomination for Outstanding Reality Program.
Since achieving success, Cesar Millan, the Dog Whisperer has written four best selling dog training books, released six DVDs, made guest appearances in various series and movies and appeared on countless popular talk shows and news programs. The Dog Whisperer is aired all over the world.
As he once promised to his mother, Cesar Millan, the Dog Whisperer, is undoubtedly the most famous dog trainer in the world.
In an interview by Modern Dog Magazine, Cesar was asked about the message he hopes to leave behind. He calmly explained that he would like to spread the idea of connection between humans and Mother Nature. He also commented that he views fame the same way dogs do, it is not real, but just a story. Cesar Millan then commented that he is still the same Mexican guy who crossed the border with a dream; he just has better clothes now.