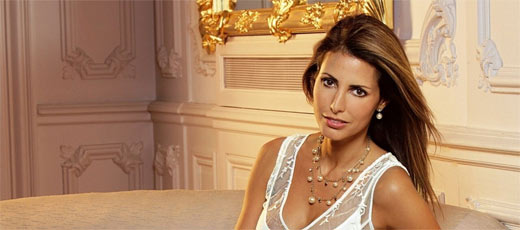 Elsa Benitez is one of the most famous Mexican models of all time who was born in Hermosillo, north-western Mexico in 1977.
Elsa Benitez is one of the most famous Mexican models of all time who was born in Hermosillo, north-western Mexico in 1977. While growing up Elsa Benitez idolized world famous Canadian supermodel Linda Evangelista, who inspired her to pursue a career as a model. Benitez first came to the spotlight in 1992 when, at the age of just 15 years old, she reached the semi-finals of Ford Modeling Agency's Supermodel of the World Contest. Following this early success she signed her first contract with the Mexican modeling agency Albertina Top Models.
A year later, Benitez boosted her profile even more by winning a "Model of the Year" contest run by the Mexico media giant Televisa. Following this success, the budding model moved to Mexico City so that she could be close to the most influential figures in Mexican fashion.
Further success came in 1995 when, at the age of 18, the Mexican model won another modeling competition in Costa Rica. Next, Elsa Benitez made her debut as a catwalk model. Her first runway appearances were in Mexico where she performed in shows for various famous Mexican designers. However, her reputation quickly spread and before long she was doing shows abroad, first in the United States and later in Europe.
1996 saw Elsa Benitez's big breakthrough when she appeared on the cover of Italian Vogue three times in one year. The Latin model was in high demand by designers and other fashion publications who all wanted her for their shoots. That same year, she signed with the world renowned Elite Model Management Agency after which her career truly took off. In the following years, the now famous Mexican model appeared on the covers of the world's biggest fashion publications including Elle, Marie Claire and Vogue in various countries. At the time, Elsa Benitez was also working for some of the biggest fashion houses in the world, most notably as the face of Dolce and Gabbana and Macy's. Benitez has collaborated with people from all over the world, such as fashion designer Óscar de la Renta, from the Dominican Republic, and has become one of fashion's most international stars and biggest Mexican celebrities.
Aside from her huge success in the world of high fashion, Elsa Benitez has used her exotic looks to good effect in other fields. The famous Mexican model has long been the object of male desires for her work as a Victoria's Secret model in addition to appearing in the renowned Pirelli Calendar in 1999. In the United States, she is perhaps most well known and recognized for her appearances as a model in the famous swimsuit editions of Sports Illustrated.
In the past, Elsa Benitez has also pursued a career in acting to compliment her modeling commitments. Hoping to take advantage of her Mexican heritage and star in both English and Spanish productions, the Mexican beauty has taken acting lessons sporadically throughout her career. In 2002, she was featured in Spanish pop star Enrique Iglesias's video for the song "Love to See You Cry", which achieved huge international success.
Since 2009, Elsa Benitez has been the host of the show "Mexico's Next Top Model", which follows the same format as the American version created by Tyra Banks. The hugely popular program aims to boost the profile of Mexico's models, who wish to emulate the success of people like Elsa Benitez, as well as Mexico's fashion.
Benitez has a daughter from her marriage to Lebanese NBA star Rory Seikaly which ended in 2005. Elsa Benitez remains a popular figure among Mexico's people, and has kept in the spotlight due to her relationships with other famous Mexicans such as the entrepreneur Roberto Slim.
Benitez's success has seen her rise from humble beginnings to the top of the fashion hierarchy. Nowadays, her career provides inspiration for other up and coming Mexican models.